August 9, 2013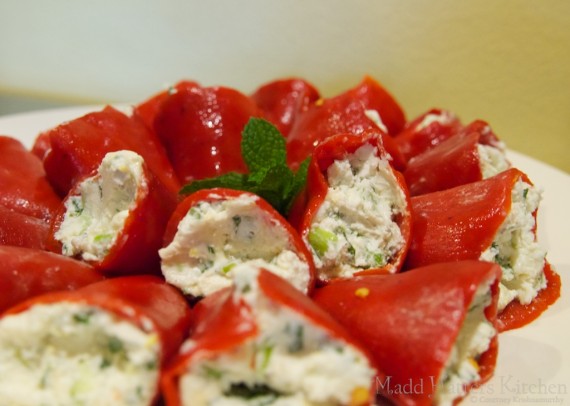 Last week I told you about my fabulous Spanish themed picnic, and gave you the recipe for a killer gazpacho that packs a tomato punch but is tempered with some roasted red pepper. Well, continuing in that vein, today I have the recipe for the stuffed piquillo peppers I made for the picnic.
Stuffed piquillo peppers are not the first thing that comes to mind when I think picnic food. Stuffed with softened goat cheese, I wasn't even sure I could make this work, but they're so good that I was willing to give it a try. I often make these for appetizers at home, or just as a great little finger food for company. They always get rave reviews, and they never last long.
How did they hold up for the picnic? Surprisingly well! I made these the night before and let them firm up in the refrigerator overnight. The next morning, I carefully placed them in a ziploc bag, one at a time forming layers. I made sure to surround them with lots of ice packs, but not weighting them down so they wouldn't end up smooshed. When we got to our final picnic place, they were still perfectly firm!
Goat cheese stuffed piquillo peppers
Serves 6
14 ounces goat cheese, room temperature
4 scallions, thinly sliced
1/2 cup coarsely chopped fresh mint
1/8 teaspoon red-pepper flakes, plus more for garnish
1 can (14 ounces) piquillo peppers, drained, liquid reserved
2 lemons, for zest and juice
Sea salt & freshly ground pepper
Place goat cheese, scallions, mint, red-pepper flakes, and 1/4 cup piquillo liquid in a bowl. Add all of the lemon zest and the juice of one lemon. Mix until well combined. Taste, add salt and pepper seasoning, and add piquillo liquid and lemon juice as needed to make a smooth mixture with a pleasing taste.
Using a spoon, fill each pepper with the goat cheese mixture. Place on a serving plate. Cover and refrigerate if you don't plan on serving right away.