September 13, 2011
This weekend I decided to take the time to create plenty of homemade goodies to enjoy during the work week. One of the things my husband has been wanting since getting the espresso maker is "tiny cookies" to go with his morning cappuccino. So this weekend I decided to make one old favorite and something new as well.
The old favorite is an amaretti cookie. I discovered these in the A16 cookbook. It's one of the desserts that looked fairly simple, so I tried it, and while my first batch had issues, I finally figured out the trick to getting the perfect amaretti cookies every time (so the recipe below is updated accordingly).
One thing I will note: I think amaretti are traditionally made with blanched almonds that have been peeled. I'm lazy, plus this recipe didn't state such things, so I've made mine with the skins almost every time (once I bought already-peeled almonds). They turn out just as yummy, with less work. My husband asked this morning if they had coconut flake in them – so that's what you get when you don't peel – a little extra texture.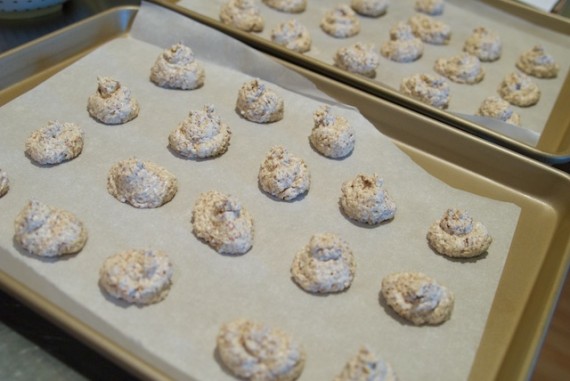 Amaretti cookies
adapted slightly from A16 Food + Wine
Makes about 34 cookies
1 3/4 cups whole natural almonds
3/4 cup plus 2 tablespoons powdered sugar
1 teaspoon cornstarch
1/2 teaspoon finely ground sea salt
1/3 cup granulated sugar
2 egg whites
Pinch of cream of tartar
1 teaspoon pure almond extract
Preheat the oven to 300 degrees. Line 2 baking sheets with parchment paper.
In a food processor, pulse the almonds until finely ground. Transfer to a medium bowl. Sift together the powdered sugar and cornstarch over the almonds, then whisk together with the salt. Set aside.
In a very clean bowl, using a handheld mixer or electric whisk, whip together the granulated sugar, egg whites, and cream of tartar for about 5 minutes. You want the mixture to become stiff. You don't have to get peaks out of the mixture, but you definitely don't want this to be runny in any way, shape, or form. Once stiff, fold in the almond extract, followed by the almond mixture, mixing very, very gently until everything is combined.
Fill a pastry bag or ziploc bag with the mixture. If using a ziploc bag, snip 1/2 inch from the bottom after closing the top of the bag, and begin piping the cookies into 1 inch mounds on the prepared baking sheets.
Bake the cookies on the middle rack and the upper rack, rotating the pans from front to back/top to middle half way through, for about 35 minutes. The cookies will be done when they are lightly golden and sound hollow in the center when tapped. The bottom of the cookie should not be moist. Transfer from sheets to wire racks to cool completely.
Once the cookies have cooled, transfer to an airtight container, as they are highly susceptible to humidity.
Normally I can leave these sitting out on my kitchen counter for days, and they just get drier and drier. This time, however, it must be more humid, because I noticed within hours that the cookies were getting moister/chewier (the larger ones) so I quickly packed them up. So just keep in mind that the humidity susceptibility is real.