January 29, 2015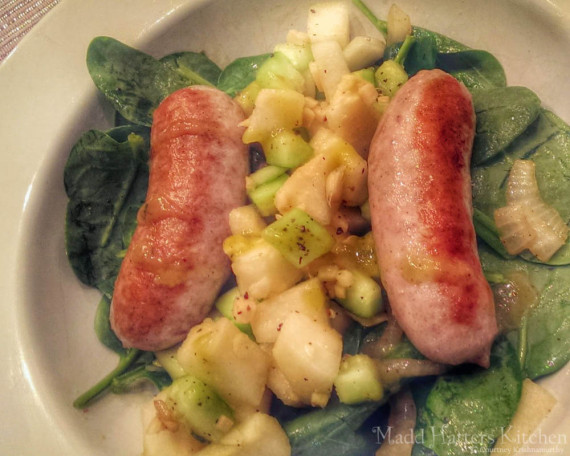 It's not a secret that I'm a big fan of salads that have a warm component to them. Whether it is a warm blackberry vinaigrette or adding freshly made buffalo strips, having something warm with my greens makes a salad feel substantial, like a real meal for me. So when I was raiding my refrigerator the other night for things to pair with my baby spinach, it's no surprise that my first instinct was to sauté or roast the pears I found. But then, I noticed the cucumber sitting next to it, and I decided to go a different route.
One of my favorite ways to enjoy cucumber is with a Japanese bent – soak the cucumber slices, strips, or cubes with onion in a dressing of rice wine vinegar, salt, and sugar. The result is a crispy, cool salad that's at home on my poke rice bowl or as an accompaniment to my teriyaki chicken. This time around, however, I decided to use the mango white balsamic vinegar I had planned on making a dressing from, and to add the pears I had planned on cooking to the mix.
Of course, I still needed a little warm – otherwise this wouldn't be the word "contrasts" in the title! I thawed some of my favorite sausage, a rabbit, pork, and ginger version, and after cooking it, I quickly sautéed onion and scallion so they were just softened, and tossed them in with the spinach. The result was a satiating yet light salad full of flavor and texture.
Cool Contrasts Salad
Serves 2
Note: While this salad uses some specialty items, they could just as easily be switched out for something similar. Chicken sausages or Aidell's mango sausage would make a good substitute for the rabbit sausage from D'artagnan, and any white balsamic vinegar will work for the dressings.
For the pear & cucumber salad:
3 tablespoons mango white balsamic vinegar
1 teaspoon French grey sea salt
2 teaspoons sugar
1 pear, peeled and cubed
1/2 cucumber, seeded and cubed
1/2-inch to 1-inch ginger, minced
Mix together the first 3 ingredients until the salt and sugar dissolve. Marinate the pear, cucumber, and ginger in the dressing for 10 – 15 minutes, then drain for at least 5 minutes.
For the cooked elements:
4 rabbit & ginger sausages (8.5 ounces total)
2 teaspoons olive oil
1/2 small white sweet onion, sliced in half moons
2 scallions, cut on bias in 1/2-inch pieces, tough greens discarded
Warm the olive oil in a skillet over medium heat. Add the sausages and cook until browned on all sides and cooked through. Remove from pan and keep warm. Add the sliced onions to the skillet and cook until they are just beginning to soften. Add the scallions and cook until they turn bright green about 30 seconds to one minute. Remove from heat and reserve for assembly.
For the dressing:
1 teaspoon Dijon mustard
3 tablespoons mango white balsamic vinegar
1/4 cup olive oil
Pinch of salt
1/2 teaspoon dried chives
1/2 teaspoon parsley
1/4 teaspoon Chinese 5 spice
Place all ingredients in a bowl and whisk to emulsify.
To assemble:
5 oz baby spinach
Place half the spinach in each bowl. Add onion/scallion mixture. Dress with a drizzle of dressing – 2 to 3 teaspoons – and sprinkle with salt and pepper. Toss to combine.
Place cucumber & pear salad in the center of the bowl, atop the spinach. Place sausages to the outside. Drizzle a small bit of dressing over the top and eat!