March 7, 2011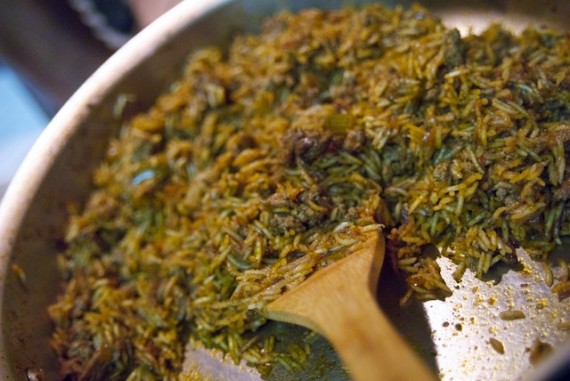 As I was reading through the recipe for Smothered Rabbit yesterday, I decided I wanted to go beyond the basic white rice and try making dirty rice. Usually I fry the livers and giblets and serve them as an appetizer with a bit of creole mustard sauce, but since I had made rabbit stock and had 2 cups leftover (just the perfect amount for the dirty rice), I thought I'd try my hand at this Cajun classic.
Here's a bit of a shocker — as much Cajun and Creole food as I've eaten over the years, I'm not sure I've ever had a homemade dirty rice made with the giblets. The old standbye was Zatarain's dirty rice with sausage thrown in.
So back to the rice. If I don't use parts of an animal, I tend to throw them back into the freezer for later use. Yesterday I had the bones of a rabbit leftover from a previous recipe, so I used that to make the stock. I also had a bag labeled "livers and such" which was full of livers and giblets from rabbits and possibly chicken. When I added the tasty bits from the current rabbit, I had more than enough meat to not need to buy anything extra at the store for the rice. I was really excited to be using all of my extraneous animal parts on this recipe – from bones and livers and giblets, to the fat I render off bacon and chicken skin. Very cool to put it all to use!
This recipe came together quickly. I've slightly adapted it from the original – opting not to add ground pork since I had quite a bit of meat already going into the mixture. Since I wasn't adding pork, I used a bit of bacon fat to give a pork flavor to the dish. The original also called for chicken livers, chicken stock, etc. so you can see the recipe is very adaptable to what you have on hand.
Try it, and let me know if you like it. Laissez les bon temps roulez!
Dirty Rice
Adapted from Chef Paul Prudhomme's Louisiana Kitchen
Makes 6 side dish servings
Seasoning Mix:
2 tsp ground red pepper (cayenne)
1 1/2 tsp salt
1 1/2 tsp black pepper
1 1/4 tsp sweet paprika
1 tsp dry mustard
1 tsp ground cumin
1/2 tsp dried thyme leaves
1/2 tsp oregano leaves
1 tbl chicken fat
1 tbl bacon fat
1/3 lb rabbit or chicken giblets, finely chopped
2 bay leaves
1/2 c finely chopped onions
1/2 c finely chopped celery
1/2 c finely chopped green bell pepper
2 tsp minced garlic
2 tbl unsalted butter
2 c rabbit stock
1/2 lb rabbit or chicken livers
3/4 c uncooked white rice
Combine the seasoning mix ingredients in a small bowl and set aside.
Melt the chicken and bacon fats in a large skillet over high heat, and add the giblets and bay leaves; cook until meat is thoroughly browned, about 4 minutes, stirring occasionally. Stir in the seasoning mix, then add the onions, celery, bell peppers, and garlic; stir thoroughly, scraping the pan bottom well. Add the butter and stir until melted. Reduce heat to medium and cook about 8 minutes, stirring constantly and scraping the pan bottom well (if you're not using a heavy-bottomed skillet, the mixture will probably stick a lot). Add the stock and stir until any mixture sticking to the pan bottom comes loose; cook about 8 minutes over high heat, stirring once. Then stir in the rabbit livers and cook about 2 minutes. Add the rice and stir thoroughly; cover pan and turn heat to very low; cook for 15 minutes. Remove bay leaves and serve immediately.