July 14, 2012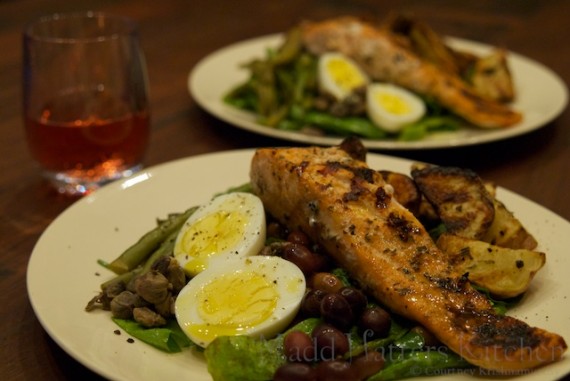 In honor of Bastille Day, I thought I would share one of my new favorite summer salads, Salad Niçoise. I had been pretty hung up on creating this salad as soon as my green beans started coming in. Of course, by the time they were ready to be picked, the summer heat had become somewhat unbearable, and the last thing I wanted to do was slave over a hot stove inside the house. So instead, I decided to grill most of my Niçoise components, including the salmon, which is not the traditional fish for Niçoise, but given its freshness, was probably much more delicious than tuna ever thought of being.
Before stepping out to the garden, I started my hard-boiled eggs, the only thing I would be cooking indoors. Then out to the garden I went to pick fresh lettuces, thyme, rosemary, and of course, green beans. This evening I decided to use the gas grill, so I made a quick pit stop to fire it up so it would begin to warm. Now it was time to cook, so it is time for the recipe!
Grilled Salad Niçoise
Serves 2
2 eggs
4 to 6 new potatoes, cubed into 1 inch pieces
4 sprigs rosemary, removed from stem and coarsely chopped
2 handfuls of green beans, ends removed and strings removed
4 sprigs thyme
1/2 lemon
2 pieces salmon or other fresh fish, around 6 ounces each
1 tablespoon Herbs de Provence
4 cups mixed greens and lettuces, washed and coarsely chopped
Dijon vinaigrette (recipe follows)
2 tablespoons salted capers, rinsed
1/2 cup Niçoise olives
Olive oil
Sea salt & fresh ground pepper
Dijon vinaigrette
1 garlic clove, crushed
1 teaspoon Dijon mustard
2 tablespoons Champagne vinegar
1 teaspoon lemon juice
1/3 cup olive oil
To hard boil eggs: Place the 2 eggs in a pot and cover with water (water should come about 1 inch above the eggs). Bring to a boil, then remove from heat and cover the pot. Let sit for 10 minutes. After 10 minutes, move eggs to an ice bath for an additional 5 minutes, then peel the shells. Slice hard boiled eggs in half.
For the potatoes: Place cubed potatoes in a bowl. Drizzle with olive oil and sprinkle with rosemary, salt, and pepper. Using your hands, mix, coating the potatoes evenly. Place the potatoes onto the grill, with the heat set at medium high. Turn potatoes as they sear, getting each side to a nice golden yellow with brown grill marks (potatoes are generally ready to turn when you can pull them away from the grill easily). These will take the longest to cook, so start them first, and add other ingredients as they are ready. When potatoes are cooked on all sides, remove from grill and keep warm without letting them steam and become soggy. I placed them in aluminum foil with the top still mostly open, and sat on a warm space on the grill.
For the beans: Create an aluminum foil packet. Place green beans inside. sprinkling with salt and pepper. Give the half lemon a small squeeze over the green beans. Top with thyme. Add 1 tablespoon of water to the packet, as well as a drizzle of olive oil (~1/2 teaspoon) then fold up the packet. Place on grill and cook until green beans are tender, about 10 minutes.
For the salmon: Season the salmon filets with salt and pepper, and evenly distribute the Herbs de Provence on each filet. Drizzle salmon with olive oil (around 1/2 tablespoon per filet, but you'll let excess run off) and rub the seasoning and oil into the salmon.
Place salmon on the grill, skin side down, over what should still be medium high heat. You'll know the fish is ready to flip when most or all of the skin is easily pulling away from the grill, and you can see that around 1/2 of the fish is cooked. Flip, placing the fish on a fresh area of the grill, and turn the temperature down to around medium. The residual heat should give the top of a salmon a good sear, and the lower heat will fully cook the fish. Again, the fish should pull away from the grill grate when properly seared, however, I gently nudge a metal spatula under the fish to ensure any tiny areas that stick release from the grate so I don't end up accidentally flaking the fish all over the grill.
For vinaigrette: Combine all ingredients in an empty jar. Season with a pinch of salt and fresh ground pepper. Shake vigorously to combine, then shake some more to ensure it is combined!
Time to combine all these pieces into the salad: Toss the lettuces with vinaigrette, salt and freshly ground pepper, and place a bed on each of the two plates. I think this salad is beautiful when you can see each of the components separately, as above. Place the potatoes and beans on the outside edges of the bed of greens. Place the salmon more toward the middle, then nestle in the capers, eggs, and olives on each plate. Finally, drizzle just a bit more vinaigrette (scant 1/2 tablespoon per plate) over the salad components, and season once more with a pinch of sea salt and a few cracks of fresh ground pepper.
Serve with a glass of chilled rosé preferably while listing to French music outdoors, pretending you are at a bistro. Happy Bastille day!