January 17, 2013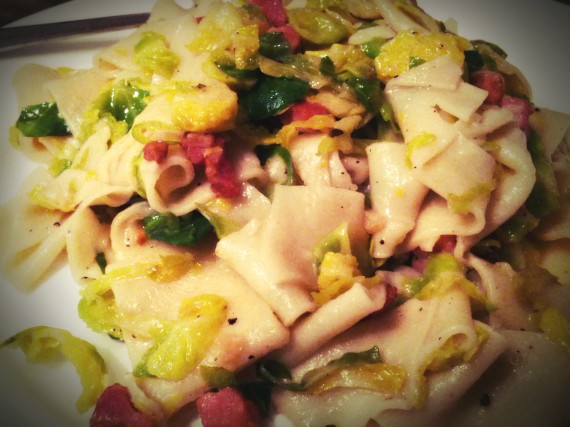 For the next few months, my husband and I are lucky enough to have the chance to live in London. While there's a great many restaurants and pubs to eat at, coming off of a 3 week vacation has me hankering for a bit of my own cooking. So one of the first nights here, I decided to whip up a simple pasta meal. Simple, because the place we are staying in had tea, sugar, and a bit of iodized salt, and I needn't go broke procuring the staples I would need to make a meal. No longer did I have my 80+ spices at hand or condiments galore.
On my first pass through the grocery stores, I had noticed the brussels sprouts looked amazingly good, so I decided to make a simple saute of those with some pancetta and toss it with pasta. I was really craving a homemade pasta, and since the store didn't have any, I decided just to pick up the flour and eggs and make it myself (plus, bonus, I could have scrambled eggs for breakfast).
All was well until I arrived back at our apartment and discovered there were absolutely no measuring utensils whatsoever. I had the foresight to pack three things from my kitchen: a pastry mat, a wooden rolling pin, and a zester. I had briefly thought of measuring spoons, cups, and spices, but decided due to space, I would forgo these. I wish I hadn't.
I haven't made pasta so much that I know how to do everything by feel, so I started looking around to see what I could use to measure, so I would at least start out with approximately the ratios I needed. The bowls looked to be about 2 cups, so using an empty beer bottle, I poured water from bottle to bowl to see what the volume was. Confirmation! Two cups (or close to it)!
So I doled out a cup of flour, made a well in the center of it, and started adding the other ingredients. Eyeballing a 1/4 and 1/2 of a teaspoon was much easier for me than the 1 cup of flour, which I never measure by cup, but use a scale to weigh at home, making this even more difficult in my mind. I began to knead, and the dough came together with no problems. One small step towards my dinner, but a giant leap in my faith in my abilities!
The rest of the meal went quickly – a bit of sauteing, my usual sauce of vegetables in olive oil, a quick finish of the pasta in the sauce, a grating of cheese, and we were ready to eat! After lots of restaurant meals over the past month, a bit of home cooking was heavenly.
Plus, we were able to enjoy a nice bottle of wine with dinner that made us laugh at the name: Chateau Gillet, which is one of the characters last names in the spy comedy Archer. And if you've seen the West Virginia episode, you might find it just as funny as we did!
While I'm in London, I will keep up with the posts here on Madd Hatter's Kitchen, but there should also be lots of lovely posts on the Daily Nosh of not only the homemade meals, but the tasty things I discover around town.
Fresh Pasta Dough
2-3 servings
5 ounces white all-purpose flour (1 cup)
1/4 teaspoon sea salt
1 large egg
1/2 teaspoon olive oil
1 to 2 tablespoons water, if needed
Place the flour in an extremely large bowl or on a pastry mat, creating a well in the center. To the well, add the sea salt, egg, and olive oil. Whisk the egg mixture, breaking up the yolk and combining with the white and other ingredients, and gradually begin to pull in the flour. Once the wet ingredients are mixed with the flour, begin using your hands to further mix and knead the dough.
If the dough is sticky, add more flour. If the dough feels to dry and the flour is not all incorporated, add a bit of water. Knead for 8 to 10 minutes, then pat into a disc, wrap with plastic wrap, and refrigerate for at least 30 minutes.
Roll out the dough with a pasta machine or by hand with a rolling pin (highly recommended if by hand you do this on a pastry mat), lightly flouring the surface, to about 1/8 to 1/16 of an inch thick. Cut the pasta into thin or thick strands (thick for pappardelle – 1/2 inch to 3/4 inch), dusting with semolina if you are bundling the strands into stacks. Cover with a semi-wet paper towel until ready to use (don't leave out more than 20 minutes).
Fresh Pasta with Brussels Sprouts and Pancetta
Serves 2 – 3
4 ounces pancetta, cubed
1 clove garlic, minced
Red chile flakes, to taste
10 ounces brussels sprouts, sliced thinly
1 recipe fresh pappardelle
1/4 cup fresh-grated pecorino romano
Olive oil
Sea salt & fresh ground pepper
Bring a pot of water to a boil.
In a pan, heat 2 tablespoons of olive oil over medium heat with the pancetta. Cook for a minute or two to allow the pancetta to start rendering a bit of its fat. Add garlic, and saute for 2 minutes, until just softening. Add the chile flakes and saute until the garlic is beginning to brown. Add the brussels sprouts, season with salt and pepper, and continue to cook until the leaves are just wilting.
Meanwhile, add salt to the water, and cook the pasta for 2 to 3 minutes. Drain, reserving 1/2 cup of the pasta water. Add the pasta and 1/4 cup of the water to the brussels sprouts mixture. If needed, add a bit more olive oil to the pan to keep the noodles from sticking to each other.
Add the pecorino romano, and a teaspoon or two more of the pasta water if needed (again, if the noodles look too dry or sticky). Stir to combine. Plate and serve immediately.