July 12, 2013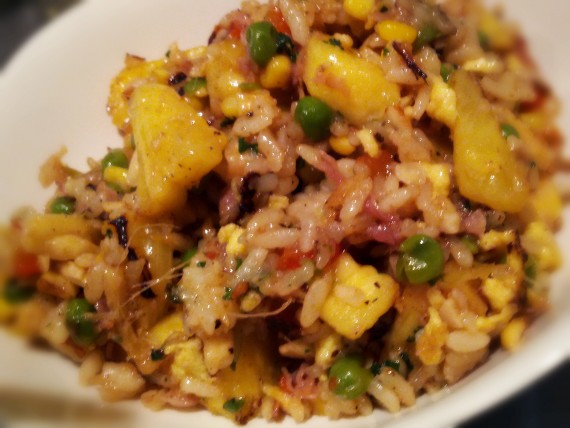 Lately I've been on a bit of a tropical kick, so I've had more than my fair share of pineapple hanging out in my fridge. As I grew tired of enjoying the sweet flavors, I happened to have a bit of leftover rice hanging out in there too, and I decided to try my hand at pineapple fried rice. A hint of sweet, a lot of savory, and just the right amount of salty with the ham and soy sauce makes this recipe tick all the right boxes for me.
Pineapple fried rice
Serves 4
1 1/2 tablespoons peanut or vegetable oil
1 egg, beaten with a pinch of salt
3 garlic cloves, finely chopped
4 ounces peeled & deveined shrimp, chopped roughly
2 ounces ham, chopped
2 ounces corn kernels
2 ounces peas
1/4 cup red bell pepper, diced
1 tablespoon ginger, finely chopped
1 1/2 cups leftover white rice (previously cooked and refrigerated)
1/2 pineapple, peeled, cored, and cubed
1 1/2 tablespoons light soy sauce
1 ounce slivered almonds
2 tablespoons cilantro, chopped
1 teaspoon black pepper
Heat 1/2 tablespoon of oil in a wok over medium heat. Pour the egg into the wok and swirl the pan so the egg coats, making a thin omelette. Cook until the egg is set and beginning to brown, then chop the egg apart in the wok. Remove from the wok and reserve on a plate.
Heat the remaining 1 tablespoon oil in the wok and stir fry the garlic until it begins to brown. Add the shrimp, ham, corn, peas, pepper and ginger, and turn heat up to high. Stir fry (stirring constantly) for 2 to 4 minutes, until the shrimp turn pink. If mixture begins to burn or brown too quickly, turn heat down a bit to medium high.
Add the rice, pineapple, soy sauce, and slivered almonds to the wok. Toss with the vegetable and shrimp mixture, and let cook for 5 to 6 minutes, stirring often, letting a bit of a brown crust form on the rice and pineapple. Add the cilantro, black pepper, and the cooked egg, and continue to stir fry for another 1 to 2 minutes. Check and adjust seasoning, and serve immediately.
Gluten free alternative: Use gluten-free tamari instead of soy sauce.