May 31, 2012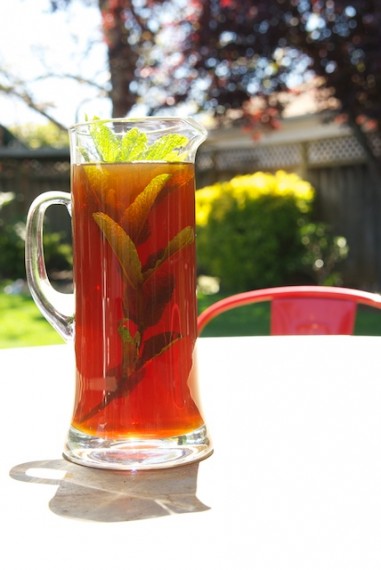 Even though I believe it might be sacrilege in the South, I never was a fan of sweet tea. My mom and dad loved it, and as a child, I would drink it, but I preferred to put so much lemon juice in it that it tasted like tea-flavored lemonade (or, I guess I just loved Arnold Palmers from a young age!). It wasn't until adulthood set in that I even started drinking tea again. And when I did, it was the discovery of hot tea, unadulterated, that lured me back. When it got the least bit lukewarm, I would throw it away.
That is, until I traveled to Sharjah. While there, I had one of the most refreshing drinks I'd ever tasted on a 100 degree day – iced mint tea, served in a tiny, Moroccan glass no less.
We were in a souk, me looking at necklaces and my husband wondering what this trip might cost. As I hemmed and hawed about whether or not I should buy anything, the shopkeeper brought us chairs to rest on while he showed us his wares, and he sent someone to grab us a drink. When the drink guy came back, he held a silver tray with two glasses of chilled tea. It was hot, so I took a sip. Next thing I knew, the tea was gone, the necklace was mine, and the shopkeep was happy!
Since I have a huge mint plant in my backyard, I decided to recreate this drink at home, and it's just as thirst-quenching in 80 degree heat as it is in the souks of Sharjah.
Iced Mint Tea
Makes 2 quarts
4 black tea bags
4 stems fresh mint, plus more for garnish
2 teaspoons dry mint
1/8 to 1/4 cup sugar (to suit your taste)
Bring a pot of water to a boil. Once boiling, add the tea bags, fresh mint, and dry mint (in a tea ball if you have it) and remove from heat. Let steep as the mixture cools, then add the sugar (the tea will still be warm at this point, but not boiling hot). You can continue to let the tea steep, or pour into the 2 quart pitcher at this point.
When pouring the tea mixture into the pitcher, strain the mints and remove the tea bags. Add additional water to bring this to 2 quarts total (I usually pour the water into the pot that has the tea bags, etc., just to eek out every last bit of flavor, then pour it into the pitcher). Mix together and chill.
Serve over ice, garnished with mint leaves. If you're serving the whole pitcher (or if you just want to continue to impart minty flavor), stick another stem or two of mint in there as well.
Vegan alternative: Use vegan white sugar instead of regular sugar, increasing the amount if needed to reach desired sweetness.