March 1, 2011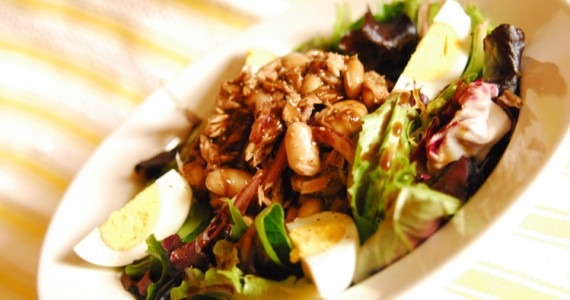 A few years ago, I would have never guessed at my love for tinned tuna. It smelled to me like something a cat would eat. Then one day in Florence, my husband and I ducked into a little shop to grab a bite to eat. We speak no Italian, so I'm not quite sure what I thought the woman offered me, but I nodded. Tonno it was!
She warmed up my sandwich, and we were back out the door, eating as we walked toward the Duomo. "I'm not sure what this is, but it's good!" A few more bites and I realized it was tuna, with a bit of tomato sauce, a hint of cheese, and some onion. It was like the Tonno Cippolle from La Pizzeria, only on a sandwich bun (and now one of my favorite pizzas). So that's the story of how I came to love canned tuna, packed in olive oil.
The salad, however, is something I recently tried at Cafe Campbell, and I decided it would make a great lunch to take to work. Creamy cannellini beans mix with the tuna and onion and a sweet balsamic vinaigrette. Sweet, tangy, salty, delicious!
Tuna Salad
Serves 3
3 tablespooons balsalmic vinegar
4 1/2 tablespoons olive oil
1 can Italian tinned tuna, packed in olive oil
1 can cannellini beans (or go the extra mile and cook your own – this will be even better)
1/4 red onion, sliced thin
3 hard boiled eggs, quartered
Mixed greens
Salt and pepper to taste
Make the vinaigrette: Combine the olive oil and vinegar in a jar with lid, and season with salt and pepper. Shake the jar until the two have thoroughly combined.
Drain the tuna, and flake apart with a fork. Drain and rinse the cannellini beans, and add to the tuna mixture. Add the red onion and about 1 tablespoon of the vinaigrette, and mix, taking care not to mash the beans. Taste, and season with salt and pepper as needed.
To assemble the salad, place a third of the tuna mixture atop the salad greens. Add 1 of the quartered eggs to each salad, surrounding the mound of tuna. Drizzle with vinaigrette, and salt and pepper to taste.
Pair with a Pellegrino and a sunny day. Buon appetito!