July 25, 2011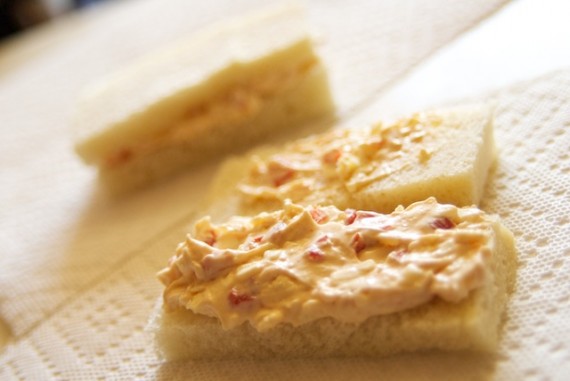 For the past few months I've had a craving for pimento cheese. While I've found it in the grocery here in the past, I wanted a homemade pimento cheese, because I remember it being so much better than something out of a plastic tub.
A friend had posted about pimento cheese a while back, so I asked for his recipe. I have to say while it sounded wonderful, it missed on one main note for me — it called for scallions, the green parts. I didn't remember any green in my pimento cheese, so no matter how tasty (or how may scallions I have in my garden right now), it wouldn't do. So his recipe was my jumping off point, and I started tasting, adding, and came up with this recipe.
Pimento Cheese, Courtney-style
1 pound cream cheese, room temperature
3/4 pound sharp white cheddar, grated
2 jars diced pimento peppers (from Johnson City, TN!)
3 tablespoons mayo
1/2 tablespoon Dijon mustard
1/2 to 1 teaspoon salt (to taste)
1 teaspoon smoked paprika
1/2 teaspoon garlic powder
1/2 teaspoon onion powder
A squeeze of lemon juice (1 quick squeeze, not too hard, err on the side of less than more, because you can always add, but you can't subtract!)
A few dashes Tabasco
1/4 cup white onion, minced
Mix all ingredients together, and taste. Adjust seasonings and ingredients as necessary (Needs more cheese? Add more! More spice, go for it!).
Slather onto white bread, cut off the crusts, and have tea sandwiches. Or leave the crusts on, or switch to wheat bread. Or add sliced onion and sliced cucumber to the sandwich. Or use as a dip on a cracker or cucumbers. The possibilities are limitless!
But is it any good? I've eaten pimento cheese sandwiches for breakfast and lunch today, and a couple of snacks in between!