January 29, 2014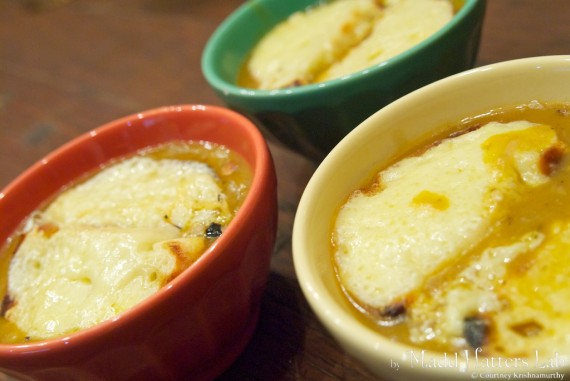 Cold, gray, snow-filled days call for warm fires and belly-warming soup. While French onion soup always takes a while to make, what else are you going to do when you're snowed in? So make quick work of the onions in this recipe in a food processor, and get to caramelizing! Soon enough you'll have warm, sweet-but-mostly-savory soup topped with stringy, gooey Gruyere that is certain to warm your family up from head to toe.
Vegetarian French Onion Soup
Serves 5
2 lbs onions, halved and sliced
2 ounces butter
2 cloves garlic, minced
1/4 cup flour
1 cup red wine
64 ounces vegetable stock
Rinds from gruyere cheese
2 bay leaves
2 thyme sprigs
Salt & pepper to taste
1/4 teaspoon truffle salt
Baguette slices
Gruyere cheese, grated
Melt butter in a pot over low heat. Add the onions, and let the onions caramelize for 40 minutes. Add flour and garlic, cook over medium heat 2 minutes. Add wine, cook for 1-2 minutes until alcohol smell has burned off. Add vegetable stock, cheese rinds, bay leaves, thyme, salt and pepper. Cover and simmer 30 – 40 minutes. Add truffle salt and adjust seasoning as needed.
Put into oven-proof bowl. Top with 1 to 2 baguette slices and plenty of gruyere cheese. Broil until cheese is bubbly and brown. Serve immediately.
Gluten free variation: Substitute a gluten free flour, such as Cup4Cup, for the flour. Omit the baguette slices and simply top soup with cheese and broil.