September 9, 2010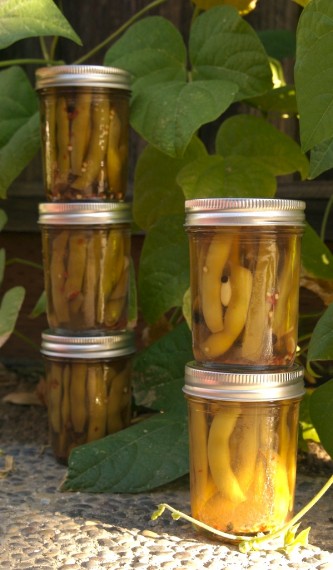 Today I'm continuing the harvest theme, showcasing more of my hard work from Labor Day weekend (I'm sure there's a joke to be inserted there). This time it's what I did with the bulk of the green beans I had picked.
The funny thing about green beans is, I don't particularly care for them. I buy most of my vegetables as seedlings from Cole Canyon Farm at the Campbell Farmer's Market (and really, I should buy all of my vegetables from them – they do really well). The guy that runs the booth is really nice, and he tossed in a free green bean plant. I decided to take it since my husband likes green beans. When we got home, I wasn't quite sure where I would plant the beans, and they sat in their plastic box for about a month, getting occasional water and almost dying before I finally decided to plant them in a narrow strip of dirt along the patio.
So, I don't care for green beans, I almost killed them before they prospered, and the other amusing thing about this story is I don't care for pickles much, either. Over time, I've found that I like pickled peppers, Indian mango pickle, and giardiniera, but that's about it. So what do I do with my green beans? I pickle them, of course!
I first started by looking for a recipe online, but ultimately decided to make a sweet and sour brine solution based on a recipe for giardiniera. I followed instructions from The Hungry Texan's Canning Basics article (because it was her pickled jalapenos that inspired me to go on this canning spree) as well as instructions from www.freshpreserving.com.
Sweet and Sour Pickled Green Beans
Fills 6 Half-Pint Jars
1 1/5 pounds green beans
2 cups white wine vinegar + 1 1/2 cups water
1 tablespoon sea salt
2 tablespoons honey
Black peppercorns
Whole cloves
Juniper berries
3 bay leaves
Crushed red pepper
Trim the green beans, making sure each bean will fit in your jar with at least 1/2 inch to spare.
Place the vinegar, water, salt, and honey in a saucepan and bring to a boil. Add the green beans and simmer for 5 minutes, or until the beans are tender but still slightly crisp.
Drain the beans, reserving the liquid. For each jar, give a good shake of crushed red pepper, and add a few black peppercorns, two juniper berries, 1 clove, and half of a bay leaf. Arrange the beans in the jar, and top with reserved vinegar solution. Cap the jars, and process in a water bath for 10 minutes.