September 21, 2010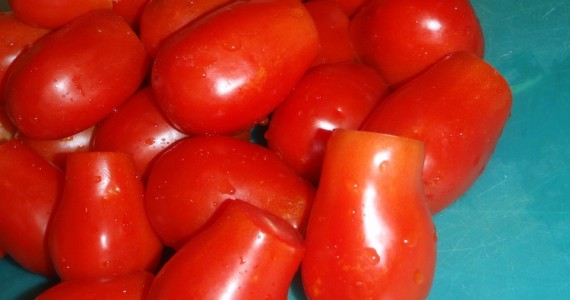 As soon as I saw this recipe on Food In Jars, I knew I had to make it. I had quite a few roma tomatoes, and while I initially had set them aside to make massive amounts of pizza and pasta sauce, I was really, really dreading peeling that many tomatoes.
Enter the Tomato Jam recipe. Tomatoes, ginger, cinnamon, cloves, and red pepper. Those ingredients alone sounded too good to be true. But the kicker was definitely this line, which was like poetry to my ears: "It needs the skin and seeds, to keep things interesting. Don't take them out."
So I set out to make the jam. I only had two and a half pounds of tomatoes, since I had packed some in oil. It really couldn't have been easier. Chop the tomatoes, add the sugar, lime juice, cloves, cinnamon, salt, red pepper and ginger to the pot and bring it to a boil. In about 1.5 hours, you'll get something that looks like the picture below.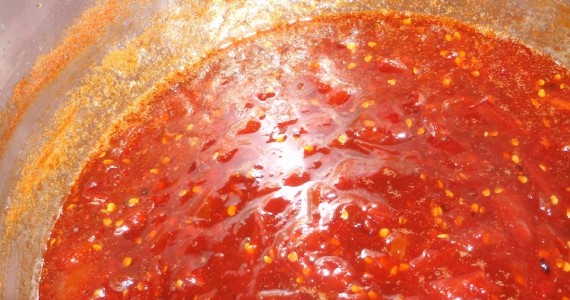 When I posted the picture of the final product this weekend, the question posed to me was, "What will you do with this?" At the time, I wasn't quite sure. It would taste good with cheese, I thought, or as part of an antipasti platter. Then, on Sunday, I made a veggie pita, and when I noticed I had no harissa, I used the tomato jam instead.
It was then the brilliance hit! This tomato jam, poured over goat cheese, would be the perfect holiday appetizer – similar to the Southern pepper jelly over cream cheese appetizer that shows up every year. Serve it with some crackers, pull out some pita slices, or whip up a batch of tigella to serve it on. There you have it! Your first holiday recipe of the year!
Tomato Jam Recipe
from Food in Jars
makes 4 1/2 to 5 pints
5 pounds tomatoes, finely chopped
3 1/2 cups sugar
8 tablespoons lime juice
2 teaspoons freshly grated ginger
1 teaspoon cinnamon
1/2 teaspoon ground cloves
1 tablespoon salt
1 tablespoon red chili flakes
Combine all ingredients in a large, non-reactive pot. Bring to a boil and then reduce temperature to a simmer. Stirring regularly, simmer the jam until it reduces to a sticky, jammy mess. This will take between 1 and 1 1/2 hours, depending on how high you keep your heat.
When the jam has cooked down sufficiently, remove from heat and fill jars, leaving 1/4 inch of head space. Wipe rims, apply lids and twist on rings. Process in a boiling water canner for 20 minutes.
When time is up, remove jars from water bath and allow them to cool. When jars are cool enough to handle, test seals. Store jars in a cool, dark place for up to one year.