September 20, 2010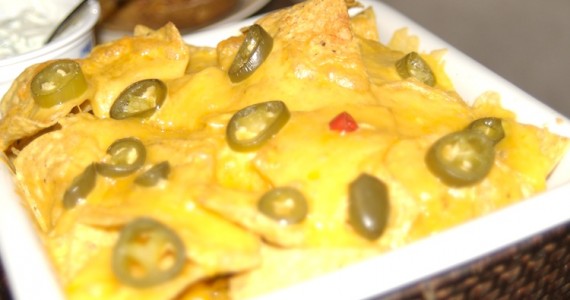 With the return of Monday night football comes yummy, cheesy, not-good-for-you foods. And to begin the season, I decided to break out one of my recently pickled batches of jalapenos and make a plate of these guys.
I saw this recipe on America's Test Kitchen many moons ago, and I immediately had to make it. Fast forward a year, and silly me hadn't saved the recipe. While the nachos part itself I could remember, I couldn't remember the recipe for the guacamole, which is one of the best I've ever had. Recently, I found the recipe again, as a download to promote the America's Test Kitchen cookbook. Luckily I saved it this time, because it looks like its already gone again.
Cheesy Nachos with Guacamole and Salsa
adapted from America's Test Kitchen
Serves 4 to 6
8 ounces tortilla chips
1 pound cheddar, grated
1 half pint of pickled jalapenos (or you can use 2 fresh jalapenos)
1 recipe of salsa (recipe below)
1 recipe chunky guacamole (recipe below)
1 recipe cilantro-lime sour cream (recipe below)
Heat the oven to 400 degrees. Spray a 13×9 baking dish with olive oil or cooking spray. Spread half of the chips in an even layer and sprinkle with half the cheese and half of the jalapeno slices. Repeat with the remaining chips, cheese, and jalapenos. Bake until the cheese is melted, about 7 to 10 minutes. Serve with the condiments on the side, so everyone can add their favorite toppings.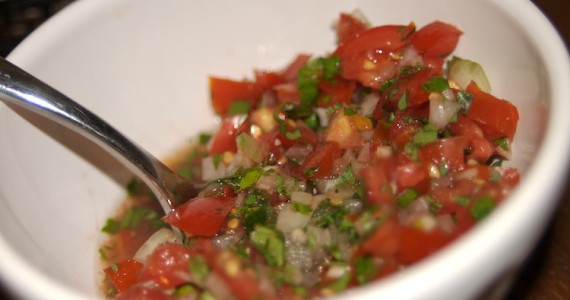 One-minute Salsa
Adapted from America's Test Kitchen
2 tablespoons chopped onion
2 tablespoons cilantro leaves, chopped
2 teaspoons lime juice from 1 lime
1 small jalapeno chile, minced
1 small garlic clove, minced
1/4 teaspoon salt
Pinch ground black pepper
4 small ripe tomatoes, cored and diced
Mix all ingredients together in a bowl.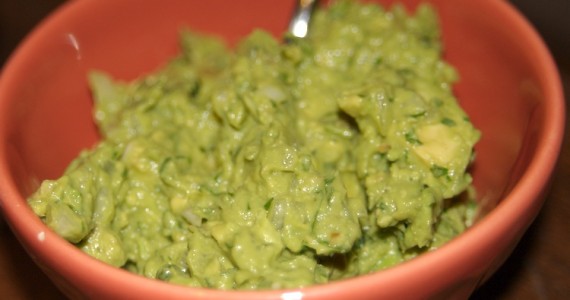 Chunky Guacamole
Adapted from America's Test Kitchen
2 medium ripe avocados
1/4 cup minced fresh cilantro leaves
2 tablespoons minced onion
1 small jalapeno chile, minced
1 medium garlic clove, minced
1/2 teaspoon ground cumin
Sea salt
2 tablespoons of lime juice from 1 lime
Halve 1 avocado, remove the pit, and scoop the flesh into a medium bowl. Using the tines of a fork mash the flesh to combine with the cilantro, onion, jalapeno, garlic, cumin, half the lime juice, and 1/4 teaspoon of salt.
Halve, pit, and cube the other avocado. Add the cubes to the bowl and gently mix in with the avocado mixture, taking care to not mash the cubes too much. Add the lime juice, and stir to combine, still keeping the mixture chunky.
Cilantro-lime sour cream
1 cup sour cream
1/4 bunch cilantro, chopped
Juice from 1 lime
Combine all ingredients.