January 29, 2011
For Christmas I received a bread maker from the husband. After many failed attempts to make bread on my own, I guess he decided I needed a little help! It's been wonderful, and I've been making wheat bread almost every week, thus there's been an increase in the amount of peanut butter and jelly sandwiches I've been eating (oh how I love PB&J!).
This weekend, however, I decided to branch out and try something new. A good friend gave me a cookbook for Christmas, Modern Spice, which I've been dying to try some recipes out of. Of course, when I saw the curry bread, I was really excited to try making it in my new bread maker; I'd get to use two new toys at once!!
I was a bit nervous about taking a recipe that wasn't specifically made for the Cuisinart and making it, but I forged ahead, and luckily the bread turned out just perfect! I love the little specs of curry leaf that dot the yellow bread here and there. The taste isn't overwhelming with spice. While that's nice, next time I might amp up the cumin seed and curry leaves just a bit.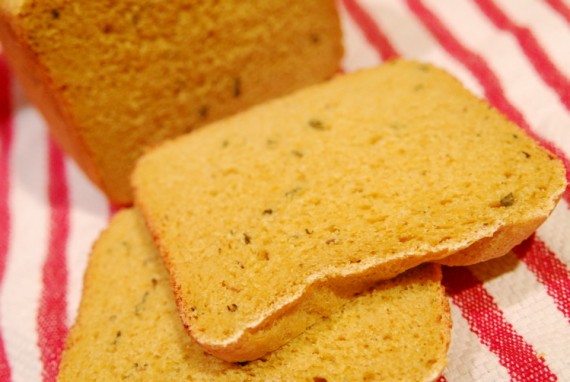 Curry Bread
adapted from Modern Spice
Makes a 1.5 lb. loaf
3/4 cup lukewarm water
1/2 cup evaporated milk
1 teaspoon salt
1 teaspoon ground tumeric
1 teaspoon cumin seeds, crushed
2 tablespoons sugar
2 tablespoons unsalted butter, room temperature and cut into 1/4 inch slices
3 cups all-purpose flour
1 cup whole wheat flour
2 tablespoons finely chopped fresh curry leaves
2 1/4 teaspoons active dry yeast
Place all ingredients in the bread maker in the order listed above, taking care not to let yeast hit the water and milk. Set the bread maker for a 1.5 pound white bread loaf, with medium colored crust. Hit start and 3 1/2 hours later you will have yummy curry bread, fresh and ready to nosh on!
Isn't that so much simpler than the myriad of steps it usually takes to make bread? I LOVE my bread maker!!