September 24, 2010


Boiled tofu and condiments
When we were in Japan, I had a bit of a revelation. I really like tofu. It's not that I disliked it before, it's that what I had over there was so good I would actually crave tofu.
The tipping point was the first breakfast we had while staying at Yachiyo Ryokan in Kyoto. Boiled tofu has never sounded appetizing to me, in fact, it sounds borderline disgusting. I think it has something to do with a friend of mine talking about boiled chicken once upon a time, and now anything with "boiled" preceding it just sounds tasteless and slimy.
The first morning we get to our table, and we have tofu sitting in a clay pot, just waiting to be boiled. We sit and awaited the towels, and we're amazed at the spread that is brought out for breakfast.

Fish and omelet
A bento box was brought out, just like for dinner. Plus green tea, soup, rice, and condiments for our tofu. Really, that is what makes the tofu so tasty. You pull it out of the boiling water, top with a bit of fresh ginger, nori (toasted seaweed), bonito (dried fish flakes), and green onion, pour soy sauce over it, and eat. Amazing. If I can find some quality tofu here, I will definitely be making this soon.
Another highlight of breakfast was the omelet. Very sweet, firm, and served cold, this is like no omelet you get here for breakfast. It's basically the tamago you get at a sushi restaurant. I resisted ever trying this stuff for a long time, thinking egg slab would be disgusting, but I was totally missing out.

Soup and meatball in broth
Every breakfast here had a bit of pickle, a fish, and a soup served. The first morning the soup was a bit trippy, with these round things floating in it. Tasty, but I have no idea what they were. One of the dishes in the bento was also a meatball and piece of gourd in a cold broth, which was lovely as well.
Unfortunately I didn't get the sweeping view of the table before the carnage. If so, you would have also seen a small salad with cucumbers and ham. Needless to say, after a breakfast here, it's a good thing we were walking around all day long. All of the liquids helped us get a good start in staying hydrated in the hot sun and humidity, too.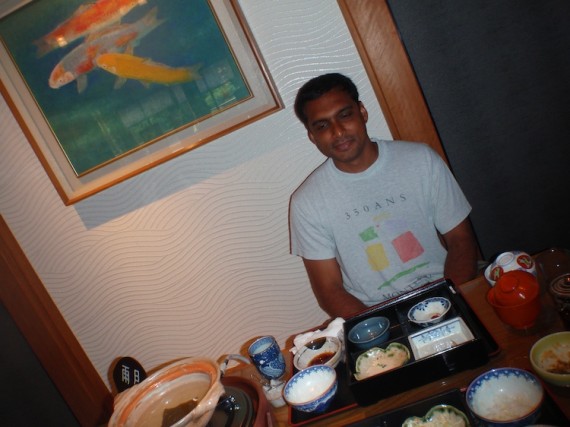 The carnage