October 17, 2010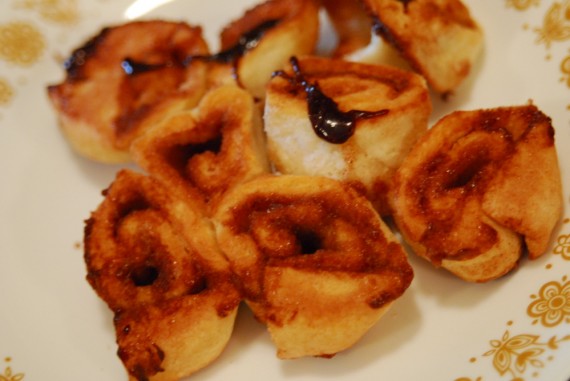 Over a week ago I got back from Tennessee and promised you a Southern breakfast favorite, at least in my house, stickies. The old hard drive bit the dust, I went into a period of mourning, but I've finally snapped out of it and decided to get back on the horse, so to speak.
When I was a kid, I would get so excited by these. They're not all that extravagant — just a way to use up all of your scrap biscuit dough, so they're rather frugal.
So how do you make them? Once you've made biscuits, take the scrap dough and roll it out into a rectangle. Sprinkle liberal amounts of white sugar, brown sugar, and cinnamon over the dough. Sprinkle a bit of nutmeg, and drizzle melted butter over all of this. You probably only need about 1/4 of a stick… it depends on how much scrap dough you started with. Think of it like a burrito; if you overstuff, everything will come flying out and be a mess.
Now the fun part. On the wide side of the rectangle, start rolling the dough inward, creating a long, spiral tube of sugary-filled dough. Slice the tube into 2 inch pieces, and place into a small pan, nestling the pieces together, pretty-spiral side up. Bake until the biscuit dough is done.
You'll have a grand meal. Biscuits, requisite gravy, and stickies for 'dessert'! If you want to cheat, you can always buy canned crescent rolls at the store, and top those with the mixture. It's not quite the same, but it'll do in a pinch.