November 4, 2010
Today is Diwali, or the festival of lights, which is celebrated in India among many other countries. I've been on board with this holiday since my husband (then boyfriend) told me about it. The Indian New Year — it means you get to buy new clothes!
Really, though, can you imagine a guy getting all that excited about clothes? Over the years, as he told me a little more about the holiday (because previously I just heard "new clothes" and didn't care too much about the actual meaning) he would always talk about the sweets his mom would make, and he'd get that happy look on his face, twinkle in his eye. Ahhh! This is what it's all about for him — sweet treats!
This year when his uncle and aunt forwarded me some recipes for sweets, I decided I was going to do this holiday right. Of course, I bought some new clothes for us. But I also decided to make a couple of his favorite sweets – carrot halwa and cashew barfi. The barfi is sort of like a fudge, and I'm surprised it came out just perfect (I'm bad with candies that need sugar boiled)! The carrot halwa was a recipe from the aforementioned aunt and uncle, and my husband was over the moon for it. Thanks Raja mama and Usha mami for the wonderful recipe!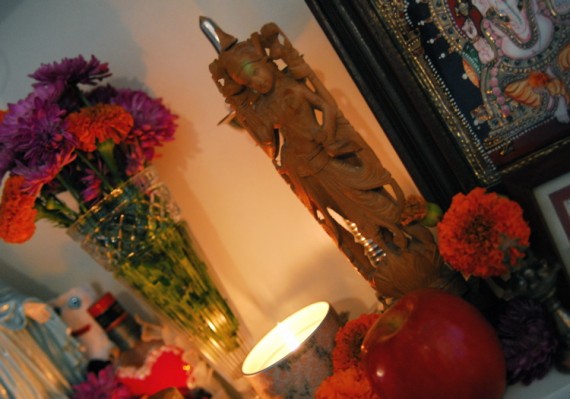 Carrot Halwa
6 cups packed carrots, grated
2 cups milk
1 1/2 cups sugar
3/4 cup ghee
1/4 cup almonds, chopped & toasted slightly
1/4 cup golden raisins
Saffron (optional)
In a large, heavy-bottomed saute pan, place two tablespoons of ghee and place on medium heat. Add the grated carrots and saute until the carrot pieces wilt a little. To the sautéed carrots add the milk and bring to a boil. Stir frequently as the carrots cook in the milk. Be careful that the milk does not boil over. The milk and the juice from the carrots will start drying up as the carrots cook.
When the mixture is relatively free of the liquid, stir in the sugar. The mixture will become liquidy again from the water from the sugar. Stir frequently. As the mixture dries out, add 2 tablespoons of ghee and mix. Once dry, add another two tablespoons of ghee, and continue to stir frequently.
Once the mixture has become dry again, add the toasted nuts and raisins and stir until it is all evenly distributed. If you have saffron, you can add a few threads.
The dessert is best served hot. However, you can keep for the following day. Just spread the halwa into a microwaveable pie plate, and warm when ready to serve.
Kaju Barfi
from The Food of India
Serves 12
1 lb 2 oz cashew nuts
6 cardamom pods
2 cups powdered milk
2 tablespoons ghee
1/4 teaspoon ground cloves
1 cup sugar
Place a small frying pan over low heat and dry-roast the cashew nuts until browned all over. Cool and chop in a food processor. Remove the cardamom seeds from the pods and crush them in a spice grinder or pestle and mortar. Line a 9×9 baking tin with baking paper.
Combine the milk powder and cashew nuts in a large bowl and rub in the ghee until completely mixed in. Stir in the cardamom and cloves.
Combine the sugar and 1 cup of water in a heavy-based saucepan and heat over low heat until the sugar melts. Bring to a boil and simmer for 5 to 7 minutes to make a sugar syrup. Quickly stir the sugar syrup into the cashew mixture — if you leave it too long it will stiffen – and spread the mixture into the prepared baking tin. Smooth with a buttered spatula. Leave to cool, then slice into diamond shapes.