March 4, 2011
Between last week's champagne bar and this week's warm weather, I'm starting to develop a craving for strawberries. Last year I planted around 4 plants, which yielded my husband and I around 2 miniature strawberries every couple of weeks. While the sweet taste is worth it, I'm going to need a bit more than that to make one of my favorite desserts, Strawberries with Zabaione. This dessert isn't too sweet, and the zabaione and balsamic complement the strawberries flavor without overwhelming it. It's the perfect way to enjoy flavorful strawberries from the farmer's market or your backyard when they start appearing.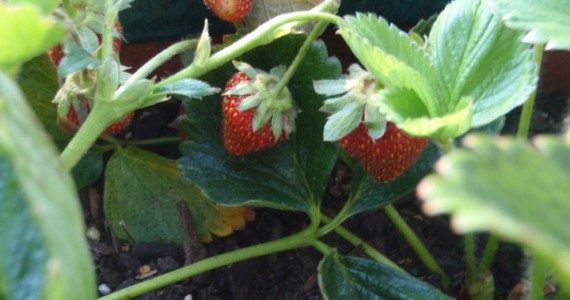 Strawberries with Zabaione
from La Cucina Italiana
Serves 4
2 large egg yolks
1/4 cup Moscato d'Asti or German riesling
2 tablespoons sugar
1 pound strawberries (preferably small), trimmed and halved
Good-quality balsamic vinegar (optional, fruit flavored ones work well)
Fill a large saucepan with about 2 inches of water and bring to a gentle simmer over medium-low heat.
In a medium nonreactive metal bowl, combine yolks, wine and sugar. Place bowl over simmering water and cook, whisking constantly and clearing bottom of bowl so that eggs do not scramble, until mixture is thick, foamy and tripled in volume, about 8 minutes. Remove bowl from heat and whisk 30 seconds more.
Divide strawberries among serving bowls. Top with warm zabaione, drizzle with vinegar if using and serve immediately.