February 18, 2013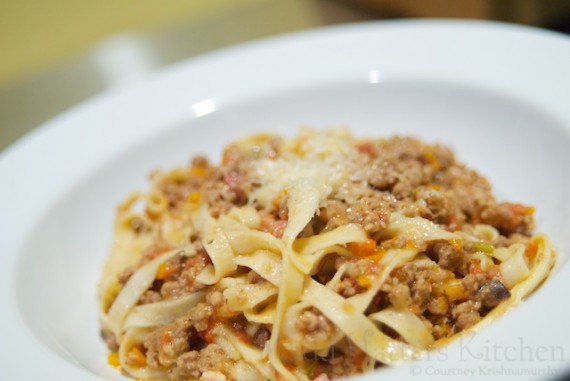 Bolognese sauce is one of those foods that is always very similar from recipe to recipe, but with slight differences that seem starkly different. A while back I posted my recipe for Lasagne Verdi alla Bolognese, whose recipe was meat heavy and included a bit of prosciutto in addition to the beef, pork and pancetta. It was made with red wine and tomato paste for a rich flavor.
This recipe goes a bit toward the lighter route. White wine, tinned tomatoes, and a bit lighter on the meat portions. Lighter doesn't mean less flavor, though. It leans on the richness of chicken livers and milk to bring this pasta dish to life. The result is a nuanced sauce that allows the tagliatelle to shine through.

Bolognese Sauce with Tagliatelle
Adapted slightly from Food of Italy
Serves 4
4 tablespoons butter
1 onion, finely chopped
1 celery stalk, finely chopped
4 ounces pancetta, cubed
8 ounces ground beef
8 ounces ground pork
2 sprigs fresh oregano, stemmed and chopped
Pinch of freshly grated nutmeg
4 ounces chicken livers, trimmed and finely chopped
1/2 cup dry white wine
3/4 cup milk
14 ounce San Marzano tomatoes, chopped
1 cup beef stock
Sea salt and freshly ground pepper
1 pound fresh tagliatelle (the recipe for fresh pasta dough can be found here)
Grated Parmigiano Reggiano cheese
Heat the butter in a saucepan and add the onion, celery, carrot, and pancetta. Cook over moderate heat for 6 to 8 minutes, stirring from time to time.
Add the beef, pork, and oregano to the saucepan. Season with salt and pepper and the nutmeg. Cook for about 5 minutes, until the meats have changed color but not browned. Add the chicken liver and cook until it changes color.
Pour in the wine, increase the heat and boil over high heat for 2 to 3 minutes, or until the wine has been absorbed. Stir in 1/2 cup of the milk, and reduce the heat and simmer for 10 minutes. Add the tomatoes and half the stock, partially cover the pan and leave to simmer gently over very low heat for 3 hours. Add more of the stock as it is needed to keep the sauce moist.
Meanwhile, cook bring a pot of water to a boil for the tagliatelle. Stir the remaining milk into the sauce 5 minutes before serving. Add the fresh pasta to the boiling water at this time. When pasta is al dente (around 2 – 3 minutes), drain and toss with the sauce. Serve immediately with freshly grated Parmigiano.