December 13, 2013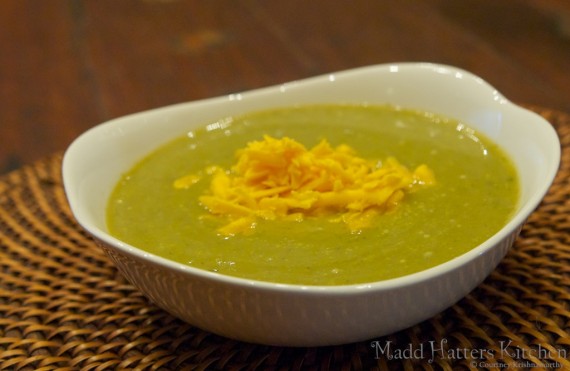 This is one of those recipes that upon first making it, I was surprised it could be so good. Maybe it's because I grew up with a disdain for almost every vegetable, and the thought of broccoli was at the tip top of the list. Maybe it's because as I branched out and started eating broccoli, I leaned heavily on dairy products to make it palatable. So when I first looked at this soup, while it seemed simple enough, I wasn't sure 1 cup of skim milk and a lot of vegetable stock was going to be enough to distract me from the fact that I was eating half a pound of broccoli in a single sitting. Okay, so maybe I load up a bit on the cheese at the end, but even without the cheese, this soup will warm you up and put a smile on your face with its subtle flavors and creamy consistency. Plus, other than needing to puree the soup, the recipe is super simple and takes no time since you don't have to spend much time chopping.
Broccoli Soup with Cheddar
Serves 6
1 1/2 tablespoons extra-virgin olive oil
1 medium onion, coarsely chopped
2 garlic cloves, coarsely chopped
3 to 3 1/2 pounds broccoli, stems and florets chopped separately into 1/2-inch pieces
7 cups homemade or low-sodium canned vegetable stock
1 cup skim milk
1 to 3 large pinches cayenne pepper
Sea salt & fresh ground black pepper
3 ounces quality aged cheddar cheese, grated
Optional: 6 to 12 baguette slices, sliced 1/4 inch thick
Heat oil in a large pot over medium heat. Add onion, garlic, and broccoli stems. Cover and cook, stirring occasionally, for about 15 minutes or until vegetables are soft.
Add the stock and 1 teaspoon of salt. Cover, raising the heat to medium-high to bring to a boil. Add the broccoli florets, reduce heat, and simmer uncovered for about 10 minutes or until florets are tender.
Remove soup from heat, and let cool. At this point you want to puree the soup. You can do this either with an immersion blender, or by working in batches with a blender or food processor. Return the pureed soup to the pot, and stir in milk and cayenne. Taste, and season with salt and fresh ground black pepper, as well as a bit more cayenne, to suit your taste. Simmer over medium-low heat until heated through, taking care not to let the mixture boil.
At this point you can either simply top your soup with 1/2 ounce grated cheese, or you can turn on your broiler to make cheddar toasts. Toast one side of the baguette until it is a light, golden brown (this doesn't take long, so keep your eye on them!). Flip the toast over and top with the cheese. Melt the cheese under the broiler. Top each bowl of soup with 1 to 2 cheddar toasts and serve.