November 3, 2010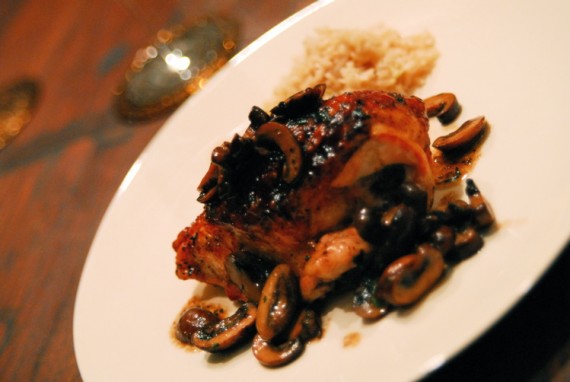 A few years back I bought the book French Women Don't Get Fat. I'll admit it, I was intrigued to see what this book would have to say, whether it would reveal some magical secret that allowed me to eat croissants and drink red wine all day long. Or at the least, it would tell me the magical secret was to drink red wine all day long!
What I hadn't anticipated about this book were all the yummy recipes. One of them, Chicken au Champagne, I've had my eye on quite a while, but it's taken me 5 years to get around to making it. This week, when I received a shipment of new Champagne glasses, I decided it was time. I started to buy the Veuve Clicquot recommended for the meal, but at the last minute I had pangs of guilt for spending that much money and decided I would try the Piper Sonoma Brut, which was good and went well with the chicken.
And the chicken? It was wonderful, but the mushrooms were out of this world! This is definitely a meal I'll be making again soon.
Chicken & Mushrooms with Champagne
Adapted from French Women Don't Get Fat
Serves 4
4 chicken breasts (with skin and bone)
1 shallot, quartered
Thyme
1 cup brut Champagne
1 tablespoon butter
8 ounces crimini mushrooms
Mixed herbs
Salt and freshly ground pepper
Place the chicken breasts in a roasting pan, and season them with salt and pepper. Make a slit in each breast's skin, and insert the pieces of the quartered shallot under the skin, along with the thyme. Pour 1/2 cup of the Champagne over the breasts.
Place the pan under the broiler, skin-side down, for 3 to 5 minutes, until the chicken starts to brown. Turn and broil the other side for 5 minutes (or until brown).
Remove the chicken from the broiler, baste with the pan juices, and add the remaining 1/2 cup of Champagne. Adjust the oven temperature to 475 degrees and bake the chicken for 30 minutes, basting once or twice.
Toward the end of the cooking time, melt the butter in a saute pan over medium heat. Add the mushrooms, season with salt and pepper, and saute until they just begin to soften. Add the fresh herbs (I used a handful of chives and thyme to mine). Once you've pulled the chicken out of the oven, pour the drippings into the saute pan and continue cooking on medium heat until the sauce has thickened.
To serve, plate the chicken and pour the mushrooms and sauce over the breast. You must of course have the rest of the Champagne with the meal! A rice pilaf is nice with this as well.