January 27, 2011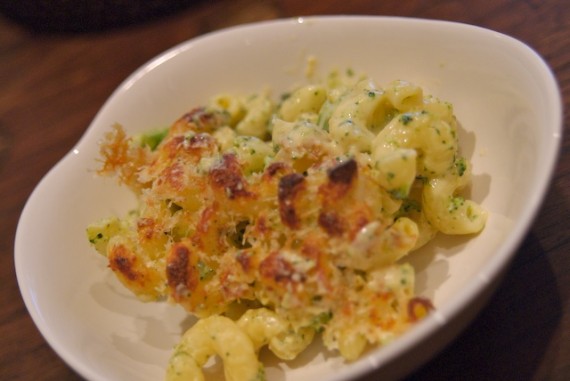 Macaroni and cheese has long been a favorite of mine (as I'm sure it is for many of you). Growing up, Mom always made our mac-n-cheese "from scratch". Hers was a simple recipe. Boil some shells, chunk up some Velveeta, and stir, stir, stir until it all melts. That's it, no milk, no butter. In fact, when someone added those things to mac n cheese, it tasted weird to me. I just wanted Mom's.
Somewhere along the way, I decided to add a little milk and butter to my version of Mom's. I think it was in college and I was running a little low on Velveeta, so I had to stretch it out somehow. I decided that wasn't half bad, and I could eat that again if I had to. A few years later, and at a luncheon I had baked macaroni and cheese. The kind that has a bechamel sauce base, and bread crumbs on top. This took me back to "something's not quite right with this". Additions to my macaroni are apparently an acquired taste, but out of the necessity to stretch what's in the cupboard or fridge, my palate learns to adapt. And that's how I ended up making this Baked Mac n Cheese with Broccoli.
Broccoli is another acquired taste, and a recent one at that. A few years ago I had some at a Chinese restaurant, and decided it was okay, so long as it was cooked fresh and not heated in the microwave. Then I started eating small chunks of it with liberal amounts of dip at parties. Before you know it, I actually like the stuff, and I start adding it to all sorts of things. Even my macaroni and cheese.
So this recipe is my evolution of learning to like different types of mac n cheese other than Mom's, and the evolution of my taste buds to eat veggies. I'm still not into the bread crumbs on top, but I like the crunch of a bit of Parmesan cheese, so I go with that.
Courtney's Baked Mac-n-Cheese with Broccoli
Serves 6
1 lb. of pasta (I really like Cavatappi for this one)
12 ounces broccoli florets
2 tablespoons butter
1 tablespoon flour
1/2 cup milk
1 small block Velveeta, cubed (more or less, depending on your desired cheesiness)
Parmesan cheese
Salt and pepper (white or black, depending on your preference)
Butter a casserole dish and preheat the oven to 350 degrees.
Boil water, add a tablespoon of salt, and cook pasta according to package directions, cooking only 3/4 of the recommended time to ensure pasta is al dente after cooking in the casserole. About 4 to 6 minutes before pasta is done, add broccoli so it will be cooked by the time the pasta is done. Drain.
Meanwhile, melt the butter over a medium heat, and add the flour, whisking. If the mixture is too clumpy for you, add an extra pat of butter. Pour the milk in, and continue whisking until the clumps have disintegrated and the milk mixture begins to thicken.
Add the Velveeta cubes, and season with salt and pepper. Pour the noodles and broccoli into the casserole dish, and pour the sauce over the noodles, mixing. At this point, if you decide you want to add more cheese, you can always toss a few more cubes of Velveeta in the noodles and stir around. Since everything is hot, it will melt in. Sometimes I add a bit of parmesan to stir in at this stage, sometimes I don't. Experiment.
Grate a liberal amount of parmesan over the top of the casserole, and place into the oven. Bake for 25 to 35 minutes. You'll know it's done when you begin to smell the mac n cheese and the topping gets brown. If you have issues with browning, just give it a little hit under the broiler, and serve!