December 28, 2014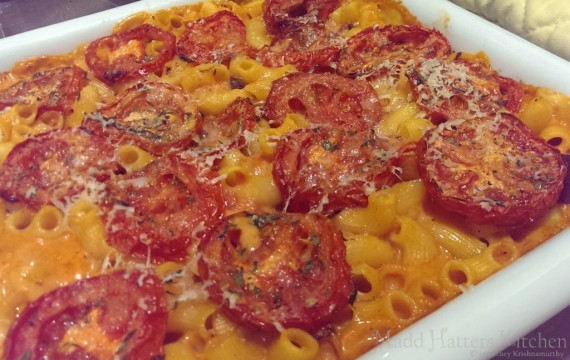 This is one of those recipes born from a mixture of comfort foods. Macaroni and cheese is one of my favorites, and it's not really mac-n-cheese to me unless I make it like I had it as a kid – with Velveeta. A few weeks ago I had a leftover hunk of Velveeta in the refrigerator, and I decided why not try this new recipe I saw on America's Test Kitchen – a macaroni with tomatoes – with Velveeta cheese.
I've had other macaronis with tomatoes, most notably a lightened version from Martha Stewart eons ago, which is where the idea came from to top this dish with roasted tomatoes. It was good, even though truth be told, I'm not a huge tomato fan. I assume the darkened color the red lended the cheesy dish on ATK is what hooked me into wanting to try this dish. At the last minute, as I was about to pour the macaroni into a baking dish, I looked up and saw a vial of rasam powder in my spice rack. That's when inspiration hit. I added a couple of spoonfuls of masala to my dish and stuck it into the oven.
Rasam is one of my husband's favorite comfort foods. This South Indian dish is one he used to have when he was not feeling well. Warm from the stove top and full of flavor and spice, rasam is essentially a bit of diced tomato with some water and the spices. One can have it with rice or drink it down from a small bowl.
So it seemed like a natural blend, tomatoes + rasam powder. More so than tomatoes and mac-n-cheese. As I waited for the macaroni to finish baking, I grew more and more unsure of my concoction. Had I just ruined my chance at my childhood comfort food?
As I begin to dish it out on my plate, however, I grew excited. The smell was wonderful. Then came the taste – out of this world! The Velveeta kept the dish reminiscent enough of my childhood favorite to satisfy me. The tomatoes gave this dish a bit more oomph – providing enough sustenance to feel like this was a meal instead of a side dish. The rasam powder, however, is what made everything tie together. Spicy, flavorful, hinting at more grown up flavors, the rasam mac-n-cheese was a smashing success. The baking dish was clean by the end of the meal, and I knew I had to capture the recipe so I could make it again.
If Velveeta isn't your thing, you can always make this mac-n-cheese with the typical béchamel sauce that most recipes call for.
Rasam Mac-n-Cheese with Roasted Tomatoes
Makes 2 main course servings or 4 to 5 side dish servings
6 roma tomatoes, sliced ~1/4 inch thick
Olive oil
Sea salt, to taste
1/2 teaspoon thyme
1/2 pound elbow macaroni (Use gluten-free macaroni if you want the recipe to be gluten-free. I prefer Biaglut pastas
.)
1 14-ounce can diced tomatoes
2 teaspoons rasam powder (see recipe below or order via Amazon
)
3.5 ounces Velveeta, cut into 1/2 inch cubes
2 tablespoons unsalted butter + more for baking dish
2 tablespoons milk
1/3 cup freshly grated parmesan cheese
Heat oven to 400º. Place sliced tomatoes in a single layer on a baking sheet lined with parchment paper. Drizzle lightly with olive oil and season with salt and thyme. Bake until tomatoes are beginning to shrivel, about 10 to 15 minutes. Set aside and keep oven warm.
Butter a 9×9 inch square baking dish and set aside.
Bring a large pot of salted water to a boil and cook macaroni for about 75% of its cooking time (usually 6 minutes). Drain pasta and add the can of tomatoes to the pot, sitting back over heat. Add the macaroni back to the pot and let the mixture cook another 2 to 3 minutes, until the tomato juice is starting to absorb in the noodles and the noodles are tender.
Add rasam powder, Velveeta, butter, milk, and about 1/3 of the roasted tomatoes to the pot and stir until cheese and butter are melted and everything is combined. Pour into the prepared baking dish and top with the rest of the roasted tomatoes. Top the tomatoes with the parmesan and bake for about 15 minutes, or until the top starts to very slightly brown.
Serve warm.
Rasam Powder
Makes about 1/2 cup
2 tablespoons coriander seeds
2 tablespoons crushed dried red chilis (more or less to taste)
2 tablespoons black peppercorns
1 tablespoon cumin seeds
1 tablespoon fenugreek seeds
1/4 teaspoon mustard seeds
Pinch of turmeric
1 teaspoon oil
Add all of the spices to a pan over medium heat. Drizzle the spices with oil and stir mixture continuously with a spatula for about 4 minutes, or until the spices are releasing their aroma and are just shy of turning brown (you do not want the spices to change color to brown/dark brown).
Remove the spices from the pan, placing on a plate so they will cool down quickly. Once the spices are cool, grind to a fine powder in a spice or coffee grinder. Let the powder cool completely before storing in a jar. The spice mixture should keep for at least 6 months in a cupboard.