November 23, 2010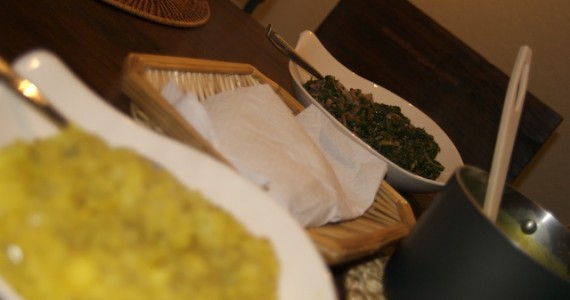 What would Thanksgiving be without gravy? When creating my South Indian Thanksgiving menu, the gravy was the thing that posed the biggest issue in my mind. I needed something that would stand up to the big flavors of the tandoori turkey and spicy mashed potatoes without overwhelming the taste buds. I thought about it for quite a while before I decided upon a Tamarind Gravy.
Tamarind is a fruit pulp that is often used in Indian and Caribbean cooking, as well as many other Asian and African cuisines. It can range from sour to sweet, depending on how ripe the fruit is. It can be bought in a block or a paste (which is easier to deal with) at many ethnic grocery stores.
Out of all the dishes I made for my South Indian Thanksgiving, this was the one I thought might end up in the garbage can. But the resulting flavor was delicious, and my husband and I were reaching for second and third pieces of naan to sop up the gravy on our plate. The great thing about this recipe is it is based on a roux of butter and flour, so you can make it vegetarian by adding vegetable stock instead of a poultry stock if you have vegetarian guests.
Tamarind Gravy
1/4 cup ghee (or butter)
1/4 to 1/2 white onion, finely chopped
1 in. fresh ginger, grated
3 garlic cloves, finely chopped
1 tsp tumeric
1 tsp Indian chili powder
1 tsp garam masala
salt, to taste
1/4 c flour
2 cups chicken or vegetable stock
3 tbl tamarind paste
1/2 – 1 tbl brown sugar, to taste
Dash of cinnamon
Heat ghee over medium heat. Add onion, ginger, garlic with a bit of salt and saute until the mixture is soft.
Add the spices + the flour while whisking, and continue to cook for 1 to 2 minutes after incorporated.
Add the chicken stock and tamarind paste, and simmer until mixture begins to thicken. (If you prefer a thinner gravy, you may want to add more chicken stock.)
Add the brown sugar to your personal taste, along with cinnamon and salt and pepper to taste.
Puree if you want a silky smooth gravy, otherwise serve with the small chunks of onion and ginger.
I served this with a naan from Whole Foods, which worked quite well for the blended meal. While Whole Foods naan isn't quite like any naan I've had from an Indian restaurant, it had a texture and flavor that reminded me a bit of dinner rolls, so it was perfect for this dinner!
Dairy free alternative: Use 1/4 cup of vegetable oil instead of ghee or butter.
Vegan alternative: Use 1/4 cup vegetable oil instead of ghee or butter. Use a vegan brown sugar instead of regular brown sugar.