March 20, 2012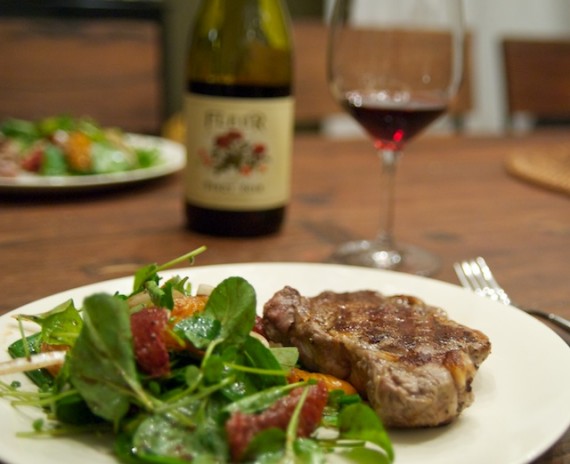 This recipe has to be one of my favorite weeknight meals (or weekend meals if I'm super-hungry). It comes together quickly, with a few ingredients, and I feel somewhat healthy and light with the salad portion replacing my usual baked potato and garlic bread side for steak.
To start, select your favorite cut of beef – filet, strip, ribeye, and sirloin would all work here. Season it simply with salt and pepper after you've rubbed with a bit of oil to keep it from sticking to your grill or grill pan.
Once you have your steak prepped and your grill or grill pan heating up to a high heat to sear the meat, get the salad together. You'll need 5 things – watercress (or you could substitute another green, arugula is a favorite, 1 bunch of watercress feeds 2 people), oranges (this time I used a mix of blood oranges and tangerines, and loaded up on them – 4 split between me and my husband), onion or shallot (shallots I like to soak in ice water to cut their bite, for onions I usually use sweet onion – about 1/4 cup for 2 people), and balsamic vinegar and olive oil.
Wash the watercress or other greens, dry well, and put into a bowl. I generally cut the peel off of the oranges to ensure I've removed all of the pith. Segment, and add to the bowl. Slice the onion or shallot, and add to the bowl. Then, make balsamic vinaigrette in a separate bowl the way you enjoy it – I usually do 2 tablespoons of olive oil with 1 tablespoon of balsamic, and I squeeze any of the orange rind that has pulp into the the bowl as well. Season with salt and pepper and whisk.
Time to sear the steak! For me, a few quick minutes on each side, and my steak is ready to go, but I love rare steak. If you want yours a bit more done, I suggest a quick sear on each side, then moving it too a cooler part of the grill (or turning down the heat a bit, or sticking it in the oven) to finish cooking the inside. Let it rest for 5 minutes after removing from heat.
Now it's time to plate and serve! Drizzle the salad with just enough vinaigrette to coat the leaves and toss. If you'd like, add a drizzle across your steak as well since there will likely be a bit of vinaigrette left over.
I served this with a pinot noir from Fleur Vineyards, a new discovery for me. Normally this wine wouldn't pair well with something as heavy as a steak, but the slightly floral taste of the blood oranges were the perfect match for the for this fruit-forward pinot. I'm going to be hard pressed not to drink the rest of the half-case I bought of this wine with blood orange-centric meals it was so amazing!