May 18, 2011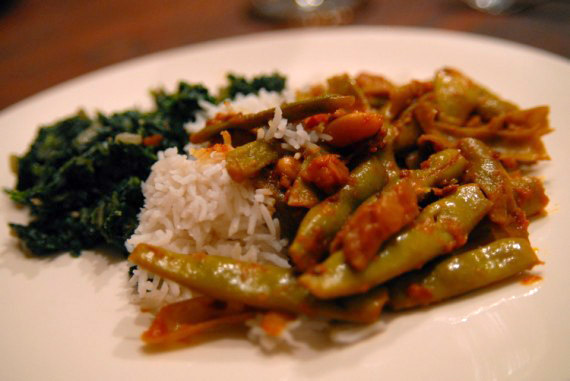 One of the things I didn't plant in my garden this year are string beans. Last year, while stocking up on seedlings from Cole Canyon Farm, the guy running the stand gave me free string beans. I'm not really a fan of green beans — I don't hate them, but they're not something I ever really want to eat. My husband, however, really likes green beans so I decided to plant them and give them a try.
I made pickled green beans, which look pretty, but they're not something I would go out of my way for. I sauteed some with a bit of garlic, salt, and pepper, and still wasn't wowed. With the final crop of beans, however, I decided to make the beans with an Indian-style seasoning. I feel a bit like Goldilocks here — choice one, meh, choice 2, meh, choice 3 – yum!! The green bean bhaji was a hit with both me and my husband!
So now I'm conflicted – do I plant string beans again this year? While this recipe is amazing, I still hate stringing beans. So the jury's still out on whether I will plant them, but I will definitely make this recipe again.
Green Bean Bhaji
2 tsp vegetable oil
2 tsp cumin seeds
2 tsp coriander seeds
1/2 small onion finely chopped
1 1/2 lbs green beans, strings and ends removed
Indian chili powder (to your preference – I used ~2.5 teaspoons)
1 tsp tumeric
Salt, to taste
5 oz tomatoes
Water
Heat the vegetable oil over medium heat in a skillet, and add the cumin and coriander seeds, cooking until the seeds start to pop. Then add the onion, and saute until the onion is tender. Add the green beans and the remaining spices and stir to combine, letting the spices cook a bit (one to two minutes). Finally, add the tomatoes and a bit of water (around 1/2 – 3/4 cup) and bring to a boil. Stir, cover, and turn down the heat, letting the green beans simmer until tender. Add additional water if necessary during this time so the mixture doesn't get too dry, and taste along the way to adjust the seasoning.
Serve over basmati rice.