April 28, 2012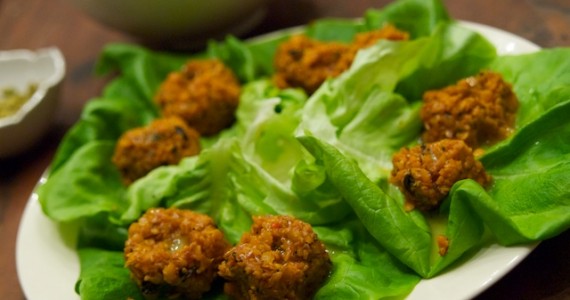 Butter lettuce is one of my weaknesses. I'm not much of a greens girl most days, but when I see the big heads of butter lettuce show up in the store as spring is springing (or, when it begins to fill out in my garden), I get the urge to make lettuce wraps of all types. Since I've been trying to focus on working more vegetables into my diet, I decided to try a recipe for red lentil köfte that looked delicious in A Chef's Travels through Turkey. The recipe called for serving in bits of romaine lettuce leaf, but I think the butter lettuce is far superior.
What are köfte you might ask? Köfte, kefta, kufteh, kubideh — these are all traditionally minced/ground meat mixed with spices and often cooked on a skewer, kebab-style. Apparently the words are a derivative of the Persian word for "mashed". These red lentil köfte are what I consider to be a very tasty vegetarian version of meatballs.
The recipe is quite simple. You start with 2 ounces of butter and melt it over medium heat, then you add a small red onion, finely diced, a tablespoon of tomato paste, a heaping teaspoon of cumin, and a tablespoon of red pepper paste. I had never heard of red pepper paste before, but luckily I'm close to a mid-Eastern grocery, so I wondered the aisles until I found this:
It's the same consistency as tomato paste, just made with red bell peppers. I have to say, once I had this mixture going, it smelled heavenly. I think you could cook anything in this, and it would turn out fantastic. But back to cooking – saute this mixture for a few minutes, until the onion is soft, then add 4 ounces of red lentils and 1 1/2 cups of water, bringing the entire thing to a boil. Lower the heat and simmer for 10 minutes, at which time the lentils should be tender and should have absorbed 2/3 of the water (I added a bit of extra water to mine because it made me nervous to have so little water in the mixture, but in the end it made my köfte not as firm, which was fine).
At this point, you will add 1/2 cup fine bulgur and 2 teaspoons of fresh mint, shredded, and 1 teaspoon of dry mint. Season with salt and pepper then remove the pan from the heat, letting it sit for 5 minutes. Stir in 1/2 lemon's worth of juice and 2 tablespoons of oil. Let the mixture cool enough to form the balls.
While the mixture is cooling, whisk the juice from the other half of the lemon, 4 tablespoons of olive oil, and salt and pepper to taste into a vinaigrette dressing. Arrange your butter lettuce leaves on a platter.
Now it's time to form the köfte – form into small balls and make an indention with your finger on the top, then place the köfte on the lettuce leaves. Drizzle the platter with the dressing, and serve. It's doubtful you'll have any leftovers because these are so tasty.
Ingredients list for 4 servings:
2 ounces butter
1 small onion, finely diced
1 tablespoon tomato paste
1 tablespoon red pepper paste
1 heaped teaspoon ground cumin
4 ounces red lentils
1/2 cup bulgur
2 tablespoons fresh mint, shredded
1 heaped tablespoon dried mint
1 lemon, juiced
6 tablespoons olive oil
Butter lettuce
Sea salt and freshly ground pepper
Vegan and dairy free alternatives: Replace butter with olive oil.