September 9, 2010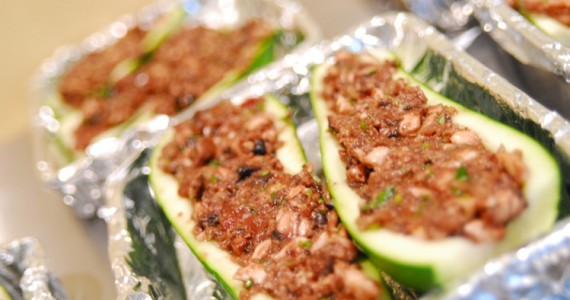 This weekend it didn't take me too long to figure out what to do with all of the zucchini that came in. "Stuffed zucchini!" I declared and went off to the store to procure the ingredients I would need.
I forget how I happened upon this original recipe from Giada de Laurentiis for stuffed zucchini and bell peppers, but I'm glad I did because it introduced me to the world of stuffing vegetables besides peppers.
I've made both her version (slightly adapted*) and a vegetarian, mushroom-stuffed version because I had some left over portobello mushrooms. I loved both, so they're both in my repertoire now. Get the recipe for my mushroom-stuffed version below.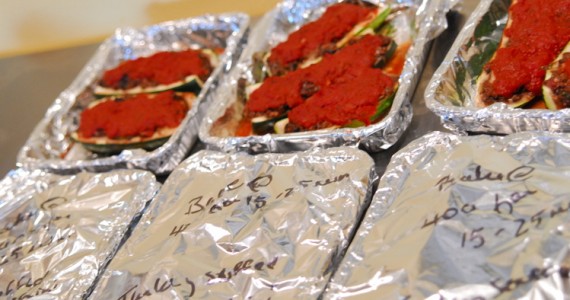 Zucchini stuffed with portobello and mozzarella
adapted from Giada de Laurentiis' Stuffed Zucchini and Red Bell Peppers
Serves 6
Olive oil
1 small onion, grated
1/4 cup chopped fresh Italian parsley leaves
1/2 cup finely chopped fresh mozzarella
3 garlic cloves, minced
1 teaspoon salt
1/4 teaspoon freshly ground black pepper
1/3 cup grated Pecorino Romano
1/4 cup dried plain bread crumbs
2 portobello mushrooms, stemmed and finely chopped
3 large zucchini, ends removed, halved lengthwise and crosswise
1 jar marinara sauce

Directions

Preheat the oven to 400 degrees F.

Spray a 13 by 9 by 2-inch baking dish with a light coat of olive oil. Mix the onion, parsley, mozzarella, 3 tablespoons of marinara, garlic, salt, and pepper in a large bowl to blend. Stir in the cheese and bread crumbs. Mix in the mushrooms.

Using a spoon, carefully scrape out the seeds and inner flesh from the zucchini. Season the zucchini halves with salt and pepper and fill with the mushroom mixture, dividing equally and mounding slightly. Arrange the stuffed vegetables in the baking dish. Pour the marinara sauce over the stuffed vegetables.

Bake uncovered until the vegetables are tender and beginning to brown, about 45 minutes. Transfer the stuffed vegetables to a platter and serve.
You can also stuff peppers, onions, tomatoes, or eggplants (yuck! but I assume other people out there like them). Since I was making these zucchini to freeze for later, I baked them for about 30 minutes, then cooled, covered, and put the pans in the freezer with instructions on reheating. My guess is 20 – 25 minutes in the oven at 400 degrees for reheating, but I haven't tried it yet. So, I will dole out the same advice I gave my husband this weekend, "Cook 'til done!", and update you later on how far off I was.
* If you also want to make the turkey version, which is equally as yummy, follow the directions on Giada's recipe. The only adaption I make to her recipe is to use 3 tablespoons of marinara instead of ketchup.