June 8, 2014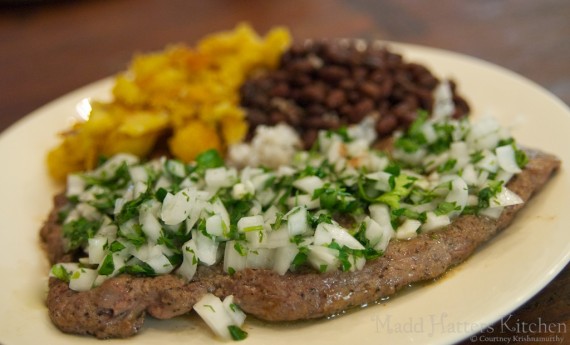 Many moons ago, I attempted to make this steak for my now-husband (back then new-ish boyfriend). I was just out of college, in my first "real job", and while I had cooked quite a bit in my days, I hadn't made up recipes on the fly much. Maybe I should back peddle a bit and explain why I was attempting to cook a palomilla steak…
Cuban food was not something that was easy to come by growing up in northeast Tennessee. Black beans and plantains weren't in the grocery. I had never even heard of a Cuban sandwich. This all changed on a trip to Tampa. My mom and I ate at Columbia restaurant. I had my first taste of black beans and rice and plantains, served on the side of this magical, flavorful thin steak which I've for years referred to as Cuban steak, but I've learned after many Google searches is actually called a palomilla steak. Initially I always slid the onions to the side, preferring the light flavoring left behind. But as I grew up, I learned to love onions, and the green stuff they mixed in with them, and this became my go-to dish at any Cuban restaurant.
Back to the attempt to recreate this dish in the early 2000s. I remembered the steak had a lime marinade and some garlic, so I poured a bunch of Rose's lime juice over the steak, sprinkled it with some garlic powder, and let it sit for a while. Needless to say, the steak tasted horrible. My boyfriend ate every last bit, though, and told me it was great. I still tell him he's a liar to this day (or he was just really, really starved). My lesson was learned: Rose's lime juice is not the same thing as lime juice, and my now husband will go to great lengths to spare my feelings.
What made me decide to try, try again in recreating this meal, instead of heading down to my local Cuban restaurant? Lately there's been a great run of overly ripe plantains available in the Bay area, so I decided why not give it another go. While I've had good palomilla steak here in the Bay area, I haven't had one that lived up to my memories of the dish from Columbia restaurant. So I set upon a course to make the full blown meal – black beans, rice, plantains, and of course, onion-topped sirloin.
I have to say, this turned out better than I remembered at Columbia! Plus, it wasn't hard to pull together. While I have this listed as a Sunday supper, it's definitely worthy of a quick and easy weeknight meal classification. Part of making it easy was picking up canned black beans, which I doctored up slightly, but were pretty good on their own. If you shop at Whole Foods, their brand of spicy black beans are amazing and need very little alteration out of the can (something I rarely say). The steak, beaten thin, cooks quickly, even if you prefer it cooked medium or medium well. The plantains might take the longest, but that doesn't mean much. They are simply sauteed in butter and oil and finished with a bit of brown sugar.
Do yourself a favor and make this quick meal one night. Pair it with my classic sangria to feel like you've been whisked away on an island vacation!
Palomilla steak
Serves 2
2 8-ounce top sirloin steaks, pounded to 1/4-inch thickness
Steak seasoning:
1 teaspoon salt
1/2 teaspoon garlic powder
1/2 teaspoon onion powder
1/2 teaspoon black pepper
1/4 teaspoon ground cumin
1/4 teaspoon ground coriander
Fresh onion mojo:
3/4 onion, chopped
2 1/2 limes, juiced (reserve other 1/2 lime for below, reserve 1/2 juiced lime shell for beans)
1/3 cup fresh cilantro, chopped
1/4 cup fresh parsley, chopped
1 tablespoon olive oil
2 tablespoons butter, in all
1/2 lime, juiced
1 garlic clove, minced
1 15-ounce can black beans, to serve (instructions below, additional spices may be needed)
1/2 cup steamed white rice, to serve
Sauteed plantains (recipe follows)
Mix the salt and spices together. Generously season the steak on both sides, massaging the spice mixture into the beef. Cover, and let sit for 30 minutes at room temperature.
Meanwhile, make the mojo. Combine all of the ingredients in a non-reactive bowl. Stir to combine.
Heat the oil and butter in a skillet over medium high heat. in pan. Cook 1 steak, for medium rare about 1 minute on each side. Remove from heat and cover with aluminum foil. Add 1/2 tablespoon butter. Cook the other steak in the same manner. Remove from heat and cover with aluminum foil.
Turn the heat down to medium low. To the skillet, add the lime juice, minced garlic, and the remaining 1/2 tablespoon butter. Deglaze pan and soften garlic (do not brown). Pour the juices/butter/garlic mixture from the pan over steak. Top with fresh onion mojo. Serve immediately.
For black beans:
I used Whole Foods spicy black beans, which as I mentioned above, didn't need much doctoring to taste good. I added half of a lime rind from the juiced limes to the pot of black beans which I had lightly rinsed. I seasoned the beans with a bit more salt, and a pinch of the steak seasoning that I had left over. If your beans are lacking flavor, I might add more of the seasoning, plus a 1/4 to 1/2 teaspoon cayenne pepper, a pinch of white pepper, and a little drizzle of olive oil (I prefer garlic flavored, but just adding a bit of fat will work wonders). Instead of just the lime rind, I would also give a little squeeze of lime juice from a wedge.
Serve the black beans over steamed white rice.
Sauteed Plantains
Serves 2
2 very ripe plantains
1 tablespoon oil
1 tablespoon butter
Sea salt, to taste
2 teaspoons brown sugar
Just a note, the plantains must be really ripe – their peels should be black. Cut the plantains into 1/2 inch thick bias cut slices. Heat the oil and butter over medium heat in a skillet. Add the plantains and season with salt. Cook the plantains, making note of their shift in color from a pale yellow to a much more saturated golden color. As they turn golden, add 2 teaspoons brown sugar. Continue cooking, stirring frequently, until little bits of brown begin to show on plantains. Serve warm.