September 16, 2010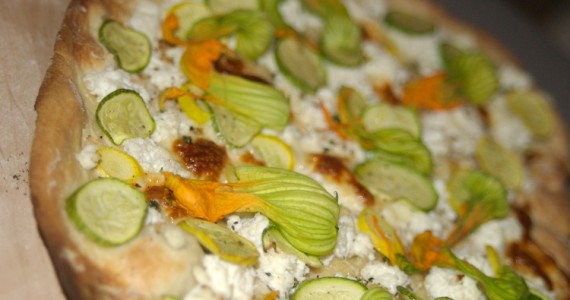 One of my favorite prepare-ahead meals is pizza. Every month or two, I make up a big batch of pizza dough (usually doubling or quadrupling the recipe I have for 2 12-inch rounds), and I portion those out into large size and individual size lumps that are frozen for later.
When I do this, I also like to cube up some mozzarella and portion it into baggies (generally around 5 – 8 ounces per bag) and make a few batches of pizza sauce, freezing those in individual baggies as well. At some point in the month or two, I end up poaching a bag of sauce here, a baggie of mozzarella there, and I end up with just the pizza dough. So there are a couple of go-to pizzas I make when missing the other ingredients.
The pizza above is pizza dough, drizzled with a bit of olive oil, ricotta spread over the dough, dusted with parmesan, and topped with zucchini, squash, and blossoms. I also add a bit of salt and pepper for flavor. It's a great summer-time pizza that's not too heavy.
This meyer lemon pizza from Martha Stewart is a great option during the winter months, when citrus is at its best. I know, I know, lemons sound, at best, weird on pizza, but this is so refreshing and tasty, you'll love it.
Lemon-and-Piave Pizza
from Martha Stewart Living
Makes one 12-inch pizza
1 round pizza dough (you can get a recipe from Martha's site)
3 ounces Piave cheese, shaved (parmesan can be substituted)
6 very thin slices lemon, seeds removed (meyer lemons are wonderful on this if available)
1/4 red onion, very thinly sliced
1 tablespoon small sprigs fresh rosemary
Freshly ground pepper
Extra-virgin olive oil, for drizzling
1. Prepare dough as directed. Place a pizza stone (available at most kitchen supply stores) on floor of gas oven (remove racks) or bottom rack of electric oven. Preheat oven to at least 500 degrees for 1 hour.
2. Arrange cheese evenly over dough, leaving a 1-inch border. Top with the lemon and onion slices. Sprinkle with rosemary, and season with pepper. Drizzle with oil.
3. Heat oven to broil. Align edge of peel with edge of stone. Tilt peel, jerking it gently to move pizza. When edge of pizza touches stone, quickly pull back peel to transfer pizza to stone. (Do not move pizza.) Broil until bubbles begin to form in crust, 3 to 4 minutes. Reduce temperature to 475 degrees on bake, and bake until crust is crisp and golden brown, 6 to 8 minutes more. (If not using broiler, bake pizza for 10 to 15 minutes total.) Remove pizza from oven using peel, and top with additional toppings if using. Slice and serve. Repeat with remaining dough and assorted toppings (each variation can be multiplied, depending on the number of pizzas you're making).