April 20, 2011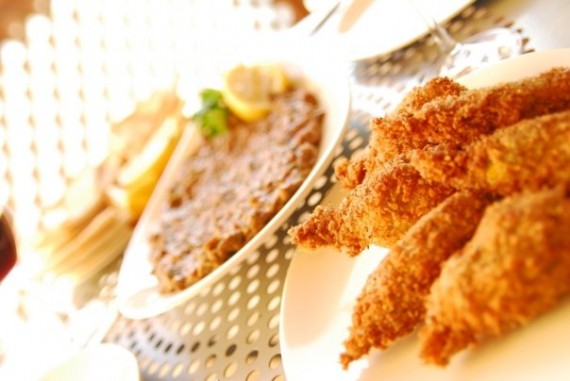 In less than one year, I've finally made it to 100 posts! Since this seemed quite the milestone, I decided this post needed to be something special, but what to write about? After a little thought, it hit me: I should write about one of my favorite lazy Sunday lunches. It's the lunch that, in tandem with a blog post, kickstarted the idea to start a food blog (more on that in this first post).
The lunch – spicy cig kofte and stuffed zucchini blossoms. It's a lazy Sunday lunch not because it's a quick and easy meal, but because it's one of those meals that you savor and enjoy while sitting under the sun, shaded by umbrellas, while sipping sparkling water and good wine. It's not how I first enjoyed kofte, but I've done it since, and decided it may be superior.
So what is kofte? This dish is raw lamb, minced with numerous spices, and served with pita. I first enjoyed this dish at a Lebanese restaurant in Dubai while I was on my honeymoon. Upon ordering the kofte, which was listed on a menu page with "RAW" written not only at the top but down the side, the waiter said, "But ma'am, that is raw". Yes sir, but I like to live on the wild side!
Long story short, I loved the kofte and long after arriving back in the States, I craved the dish. With some birthday money, I picked up a couple of cookbooks from Greg Malouf, one with Lebanese and Syrian dishes, and one with dishes inspired by Turkey. Low and behold, the Turkish one had a kofte recipe! As I paged through the book, I also stumbled upon a recipe for stuffed zucchini blossoms, something I'd alway wanted to try but hadn't. After settling on a few other side dishes and salads, I was off to the farmer's market to procure the ingredients.
The key with the kofte is making sure you find the best lamb, as lean as possible. Don't be afraid to talk to the butcher, telling him that you'll be making a sort of tartar with this lamb, so it needs to be fresh and lean. Once you get it home, be diligent in removing the excess fat and silver skin – you want to be grinding mostly the meat. You can also make the dish with beef, but I love the lamb so much, I've never tried. I'll reserve the raw beef for Ethiopian kitfo instead!
Spicy Cig Kofte
from Turquoise: A Chef's Travels in Turkey
Serves 4
3/4 lb chilled lean lamb or beef
4 long red chiles, roasted, peeled and diced
2 shallots, finely diced
2 tablespoons shredded mint leaves
2 tablespoons shredded flat leaf parsley
1 teaspoon dried mint
1 teaspoon sweet paprika
1/4 teaspoon smoky paprika
sea salt
freshly ground white pepper
2 ice cubes
lemon wedges and pita to serve
Remove any fat from the lamb and reserve. Using a meat grinder with the least coarse plate, grind the lamb meat into a bowl. Add a few chunks of fat to give a bit of fat to the mixture. Combine all other ingredients through ice cubes and mix by hand until all ingredients have thoroughly combined and the meat becomes almost a paste.
Spread the meat mixture thinly on a serving plate, and serve with lemon wedges and warm wedges of pita.
Crunchy zucchini flowers stuffed with haloumi, mint, and ginger
from Turquoise: A Chef's Travels in Turkey
Serves 4
12 zucchini flowers
vegetable oil
all purpose flour for dusting
2 eggs, lightly beaten with a little water
sea salt
freshly ground black pepper
Sumac Crumbs
finely grated zest of 2 limes
1/2 tsp chili powder
1 tsp fennel seeds, lightly roasted and crushed
2 tsp ground sumac
7 oz bread crumbs (I use panko)
Haloumi Stuffing
4 oz haloumi, washed
2 oz mozzarella
1 small clove of garlic
1/2 tsp salt
generous pinch of ground cardamom
generous grind of black pepper
1/4 tsp freshly grated ginger
2 tbl finely shredded flat-leaf parsley leaves
1 heaped tsp finely chopped mint leaves
1/2 tsp dried mint
To make the crumbs, leave the lime zest out on a plate to dry overnight or put it into a very low oven for 30 min. This will intensify the lime flavor. Mix the zest with the remaining ingredients and set aside.
To make the stuffing, grate the haloumi and mozzarella into a bowl. Crush the garlic with the salt and stir into the bowl with the remaining ingredients.
Carefully open each zucchini flower and pinch out the stamen. Roll a lump of the cheese stuffing into a thumb-sized sausage shape and gently stuff it into the flower. Twist the top of the flower to seal.
Heat equal quantities of the oils in the deep fryer or sauce pan to 400° F. Set up a little production line of flour, egg wash, and the crumb mixture. Dust each zucchini flower lightly with flour, then dip it into egg and, finally, gently roll it in the crumbs.
Carefully fry the flowers in the hot oil, no more than 4 at a time, until the crumbs turn crisp and golden. Remove and drain on paper towels, and repeat with the remaining flowers. Season lightly and serve straight away.
Serves 4.