May 9, 2014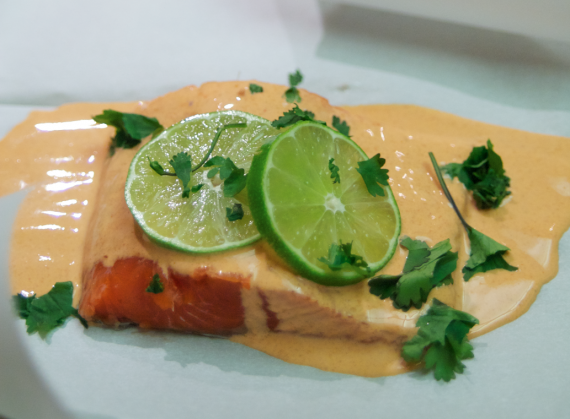 Thai curries might be one of my favorite quick meals to pull together. While one can make their own curry paste, I find the pre-made Thai Kitchen curry pastes to be pretty good. When making a bowl of curry I will usually add some extra Thai peppers and ginger to the pan, but for a quick, weeknight meal like this salmon, I keep the extra flavors minimal. This is about being quick and easy after all!
If you haven't baked in parchment before, it might look at first glance to be complicated, but that couldn't be further from the truth. Simply make up your packets of meat, add some sort of liquid and seasoning, crimp the edges, and bake! The crimping is simply folding edges of paper over on top of each other to hold. Or in my case, not so much folding as cramming paper together quickly and hoping it holds (it always does, knock on wood!).
This isn't so much a recipe as it is guidelines, so instead of writing out a recipe, I'll just give you an idea of how to proceed with this easy weeknight meal.
Begin by preheating the oven to 400 degrees. On a rimmed cookie sheet, place a piece of parchment paper, large enough to fold in half and still hold the salmon, about 20 inches wide. Fold the paper in half then unfold, and lay the salmon in the center of the paper to one side of the crease. Lightly season with salt, and place any aromatics on top of the salmon (I like slices of lime and a few sprigs of fresh cilantro). Mix 1/4 cup coconut milk (light or regular) with 2 teaspoons of red curry paste and reserve. Going back to the parchment, begin folding the parchment at one corner, then overlapping that fold with the next fold, do two or three more folds. Pinching the last fold together, pour the coconut milk mixture over the salmon. Continue making overlapping folds around the parchment until you have a half moon shape and have sealed the packet. Repeat for any additional servings.
Slide the cookie sheet with the salmon into the oven (you want a cookie sheet just on the off chance that anything leaks, but it shouldn't). Bake for 15 to 20 minutes, or until the salmon is flaky. Remove from the oven, and take care opening the packet so you don't burn yourself with the steam. Serve with rice and/or sauteed vegetables.