November 30, 2010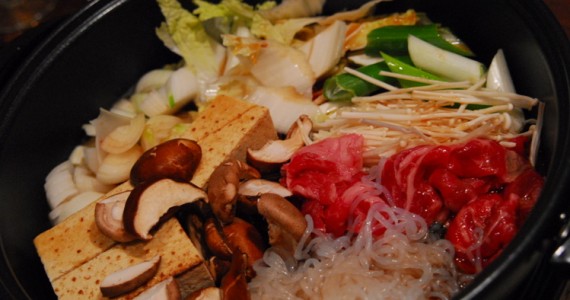 A few weekends ago I finally got around to making my own sukiyaki from a recipe in a new cookbook, Japanese Hot Pots. When we had this for the first time in Japan, I loved the social nature of the meal, chattering as we plopped in the ingredients, the discussion of whether or not the individual pieces were ready for eating yet. It was a lot of fun, and something I so wanted to recreate.
So I did, and it was so much easier than I anticipated! I headed to the Japanese grocer to pick up the ingredients, which did lend a hand in the ease of this meal (my beef was already sliced to the perfect thickness – though you could easily get everything you need at your normal grocery and take the time to slice your own). This was fun in itself, as I got to wander the aisles, seeing what new treasures this grocery had to offer (dried sardines with sticky sweet soy sauce was one!).
We invited a friend over to try out the new electric hotpot I had purchased from Amazon. Before he arrived, I arranged the beef on a platter and sliced the various veggies that would go in. I also put together the broth ahead of time and placed it in a tea pot, ready to pour when we decided to start cooking.

Photo by Chris Gutierrez
Then it was show time. I began to arrange the ingredients in the hotpot, pouring a bit of the sake-soy mixture over and bringing to a bubbling boil. As everything began to cook, we sipped sake and had some of the afore-mentioned sardines, and I turned the temperature down a bit. We cracked our eggs, and eagerly pulled out the first bites of beef, dipping them in the raw egg and washing it all down with a bit of Sapporo.
The night continued on like this. Adding more ingredients, eating more, drinking more. We ended the evening with a bit of red bean mochi, another favorite I happened upon at the grocery. The meal was so fun we did it again, only with a salmon hot pot.

Photo by Chris Gutierrez
Beef Sukiyaki
adapted slightly from Japanese Hot Pot
Serves 4
1 lb. strip loin or rib eye, thinly sliced 1/8 inch thick
1/2 medium Spanish onion, cut crosswise into 1/2 inch thick slices
1/2 package broiled tofu, cut into 4 pieces
1/2 pound Napa cabbage, sliced
1 negi or 2 scallion, sliced on an angle into 2 inch pieces
4 oz. Shitake mushrooms, stems removed and sliced
7 oz. enoki mushrooms, trimmed and pulled apart
1 package itokonnyaku or harusame, well rinsed, drained, and quartered (if you cannot find harusame, you may substitute cooked udon or soba instead)
2 cups sake
1/3 cup sugar
1/2 cup soy sauce
2 cups shungiku leaves, stemmed (substitute watercress or another microgreen if you do not have access to shungiku)
4 very fresh eggs (optional, one egg is placed in a bowl or cup per individual)
Steamed rice, served individually
Mix the sake, sugar, and soy sauce in a saucepan over medium heat. Bring to a simmer, and cook until the sugar has dissolved. Pour the sake mixture into a vessel and bring to the table.
Heat the electric hot pot to medium high heat. Begin adding the ingredients in sections (Onion in one area, cabbage in another, mushrooms in another, etc. Add the beef and noodles last.). You will only want to add a portion of the ingredients at this time, and as you eat, replenish the ingredients. Leave the shungiku until the last minute, as they will cook quickly. Have each diner break their egg into their bowl and beat the egg with their chopsticks.
Pour enough sake-broth over the ingredients in the hot pot as to come about half way up the side of the tofu. Bring this to a boil, then turn the temperature of the hot pot down slightly, and as the ingredients look done, pluck them from the pot and eat, dipping the beef into the raw egg briefly before eating. Continue to add ingredients to the hot pot, pouring additional sake-broth into the pot as the liquid level decreases.
Serve with steamed rice.
Gluten free alternative: Use gluten-free tamari instead of soy sauce. Make sure you find wheat-free noodles for this dish, such as the recommended itokonnyaku or harusame, or soba made from 100% buckwheat (though the first two will soak up the stock base better).