October 22, 2012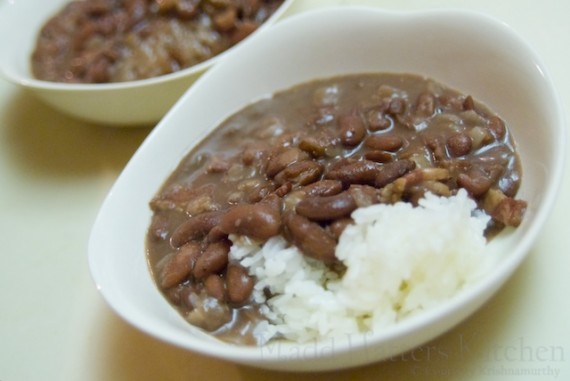 At the age of 18, I moved away from Tennessee to the midwest, and I had more than my fair share of culture shocks. Most of these had to do with food. A ham biscuit at Hardee's was made with deli ham, because no one north of Kentucky had ever heard of country ham. White Lily flour was only sold in Williams-Sonoma, and a small bag would cost you eight dollars. Barbecue was most often beef, most often ribs. And in the self-proclaimed barbecue capital of the world, being invited to a barbecue didn't mean you were going to get smoked meat, but that you were simply grilling out some burgers and hotdogs. And soup beans… no one knew what these were. How was I to explain it? I had no other words for soup beans – they were soup beans, cooked and served with cornbread most usually.
Growing up, soup beans were something that was made often. My mom loves them – she has hers with a bit of sugar sprinkled over it, which was always the way I had them. My great grandfather loves them, though maybe just for the sheer fact that he got a good hunk of cornbread with them. They were a simple meal – dried beans, a ham hock, salt, pepper, maybe a couple of other things, boiled in water for hours until they were ready.
Now, while I liked them with sugar, this was never my favorite meal. I've never been too crazy about cornbread, and I went through a period as a child where I was against a lot of beans. However, there's something about being away from home, in a place where no one knows what you're talking about, that makes you yearn for the homey meal. So I did make them a time or two in my Kansas City years.
Fast forward to California and an influx of cookbooks being added to my collection. One day, as I flipped through a freshly acquired book, I stumbled upon these beans, cooked with pork, veal in the original recipe, and red wine. It sounded very familiar to my soup beans, just with some amped up flavor. I happened to have a bunch of dried beans, and of course I had some red wine, so off to the kitchen I went.
The red wine and the more forward flavor of bacon (not to mention the little bits you'll get) take this humble meal over the top for me, and it's now one of my favorites. I'm still not a big fan of cornbread, so borrowing from another favorite dish of mine – red beans and rice – I serve these Frenchified soup beans with a side of white rice. A nice, red table wine rounds out the meal, and I'm a happy girl with a full belly!
Frenchified Soup Beans
Makes 1 big ole pot (nearly 4 quarts, or 4 to 8 servings depending on what you serve these with)
3 cups dried pinto or kidney beans, soaked overnight in cold water
4 to 6 slices thick cut bacon, diced (easiest to dice if it's frozen)
2 whole cloves
1/4 cup olive oil
1 onion, finely chopped
2 garlic cloves, finely chopped
1 heaping tablespoon all-purpose flour
1 1/4 cups red wine
Salt & fresh ground pepper
White rice, to serve (optional)
Put the beans in a pot and pour water to cover (I use a 4 quart pot). Bring to a boil, skimming foam off the top of the beans. Add the bacon and cloves, and continue boiling, occasionally skimming and stirring the pot, about 1.5 hours, until the beans are tender. If your beans run low on water, you can add more.
After the beans become tender, heat olive oil in a skillet over medium-low heat, and add onions and garlic. Cook until tender, for about 10 minutes, until the onions are soft and translucent. Sprinkle the flour over top and mix in with the oil using a fork or a whisk, cooking for another 2 to 3 minutes. Add the wine gradually, continuing to mix with the fork or whisk. The mixture will thicken as you cook this for 2 to 3 minutes more.
Carefully add the wine mixture to the beans, and stir to combine. Season with salt and pepper (amounts will vary depending on your bacon and how much you like pepper, but I would suggest 2 to 3 teaspoons of salt and 1.5 teaspoons of pepper). Cook for another 20 to 30 minutes, adjust seasoning if necessary.
Pour the beans in a bowl and serve with a scoop of freshly made white rice, warm baguette, or cornbread.
Gluten free alternative: Use a gluten-free flour, such as Cup4Cup, or cornstarch, to replace the flour in this recipe.