March 4, 2012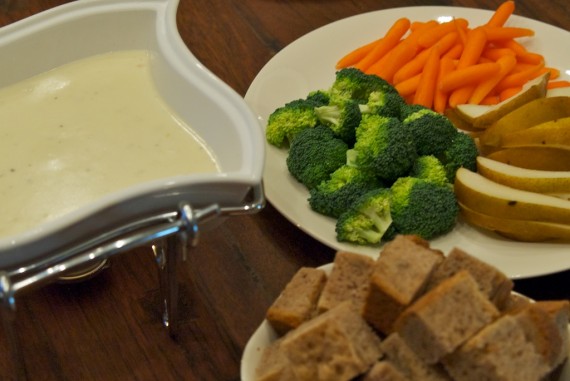 La Cucina Italiana has become one of my favorite magazines to be inspired by. While paging through one of their issues, I stumbled upon this recipe for a fondue laced with grappa, and I knew I must make it. I love fondue – the cheese, the dipping – it's all so fun. Convincing my husband to eat a large bowl of cheese for dinner is a bit complicated, so this recipe was perfect! He's a grappa fiend, and the suggested side of walnut bread would reel him in too. I was right, when I said the words "grappa fondue with walnut bread", it was met with an, "ooooh!!".
"What is grappa?" you might ask. My husband likes to describe it as Italian moonshine. Grappa was made by the workers in the wineries, and it was mainly these poor workmen who drank the libation. It was made by distilling all of the leftovers from the winemaking process – the seeds, skins, stems, and pulp – and man is it a potent drink. It's generally consumed as a digestif these days, and I've really enjoyed the moscato variety with a slice of New York-style cheesecake.
But back to the fondue! This recipe turned out amazing, though my suggestion is to add an extra shot or so of grappa at the end to ensure you get a grappa flavor. Otherwise it was just like your regular, Americanized cheese fondue (because when the Swiss make it, you can definitely taste the alcohol).
I made the walnut bread in a breadmaker, which turned this into a very easy recipe. I ended up making the bread much denser and heartier than the recipe from the magazine, which worked for me, but I would love to try their version and see how it compares.
Fonduta di Formaggi alla Grappa con Pane alle Noci
(or Cheese Fondue with Grappa and Walnut Bread)
Adapted from La Cucina Italiana magazine
Serves 4
For the Walnut Bread
1 cup whole milk
1 teaspoon fine sea salt
4 tablespoons unsalted butter, softened
1 tablespoon sugar
8 ounces whole wheat flour
5 ounces unbleached all-purpose flour
1 (1/4-ounce) package active dry yeast
3/4 cup walnut pieces
Add all ingredients except walnuts to the bread machine and use the Medium loaf/1.5 lb. loaf setting. Add in the walnuts when the machine is ready for mix-ins.
If you don't have a bread machine, pop on over to La Cucina Italiana and use their recipe. Note: I've changed this recipe to have 2 cups of wheat flour and 1 cup of white flour, instead of all white flour as they called for.
For the Fonduta
2 tablespoons unsalted butter
1 1/2 tablespoons unbleached all-purpose flour
1 cup whole milk
2 tablespoons grappa + 1/2 to 1 ounce
1/4 teaspoon fine sea salt
Freshly ground black pepper
9 ounces Fontina cheese, cut into small cubes
1 large egg yolk
Walnut bread cubes, apples, broccoli, french beans, pears for serving
In a large saucepan, melt butter over medium heat, then remove from heat. Add flour and stir to combine; set aside. In a medium saucepan, combine milk, 2 tablespoons of the grappa, salt and generous pinch pepper; bring just to a boil, then remove from heat. In a slow and steady stream, whisking constantly, add hot milk to flour mixture. Over medium heat, stirring constantly, cook mixture until slightly thickened, 1 to 2 minutes. Reduce heat to low, whisk in cheese and cook, whisking frequently, until fondue is smooth and thickened, about 6 minutes. Remove from heat and whisk in egg yolk and the remaining grappa to taste.
Transfer fondue to serving dishes and sprinkle with pepper. Serve immediately with your favorite fondue accompaniments.