October 7, 2012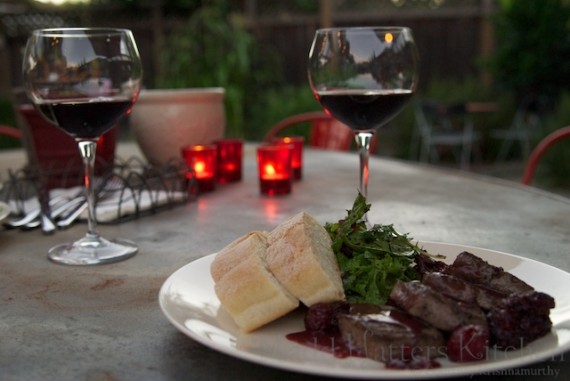 I've long wanted to make this recipe, which is in on of my favorite cookbooks, the Food of France. After my first dinner paired with La Fiorita's Brunello di Montalcino, I decided this might be the perfect wine to accompany the dinner. After all, if I'm going to the trouble of locating venison here in the Bay area, I'm going to make this a special meal! Plus, the brunello has a somewhat fruity flavor, with more than a hint of berries that I wanted to see if I could coax out more by pairing with blackberries.
This meal turned out to be very easy and very tasty. If I had better access to venison it would definitely be in heavy rotation at my house. To keep the focus on the main course, I created a simple salad of mixed greens with balsamic vinaigrette as a side. And of course we had a little bit of warm baguette to go with the meal.
As expected the brunello was a great match for the game and berry-laced sauce. We're now two for two on pairing the brunello, but I'm uncertain what the next pairing will be. To the cookbooks for inspiration!
Venison with Blackberry Sauce
Serves 4
2 1/4 oz clarified butter
12 pearl onions
5 1/2 oz blackberries
3 tbl blackberry jelly
1 venison loin (1 1/2 – 2 lbs), cut into 1 1/2 inch thick medallions
1/4 cup red wine
1 2/3 cup brown stock (meat stock, beef stock, veal stock, etc.)
2 tsp softened butter
2 tsp flour
Heat half the clarified butter in a saucepan. Add the onions, cover with crumpled wet parchment paper and a lid. Cook gently for 20 to 25 minutes, stirring occasionally, until brown and cooked. Put the berries in a saucepan with the jelly and 3 tablespoons of waters. Boil for 5 minutes until the fruit is softened and the liquid is syrupy.
Season the venison, heat the remaining clarified butter in a frying pan and cook in batches over high heat for 1 to 2 minutes. Remove the venison and keep warm. Add the wine to the pan and boil for 30 seconds. Add the stock and boil until reduced by half.
Mix together the butter and flour to make a beurre mainé and whisk into the stock. Boil, stirring, for 2 minutes, then drain the syrup from the fruit into the stock to make a sauce. Stir well, season, and serve with the venison and onions. Garnish with drained berries.