November 18, 2012
A few weeks back, I decided to order some specialty meats from D'Artagnan to make a special meal for my husband. I have ordered specialty items in the past as Christmas presents for my hard-to-buy-for family members who love to cook, but it's rare that I purchase these things for myself. So I went out on a limb and decided to try D'Artagnan, and I was really happy with their variety, shipping rates, and the overall service.
That's how I came to have these two wild boar shanks sitting in my freezer. When ordering meats online, it seems that whatever fits into the cooler ships for (roughly) the same price. Since D'Artagnan was having a sale on their game meats, I decided to add a couple of wild boar shanks and some venison to my order, which shipped for the $20 my duck alone would have shipped for (well, okay, this is Madd Hatter math… $22 for the duck, $29 for adding wild boar and venison… all in all, we're in the $20 range). While I've had wild boar often at Italian restaurants, I wasn't quite sure what to expect when cooking it. So I decided to go with a preparation similar to what I'd had in restaurants – a wild boar ragu, perfect for coating strands of pasta.
Amazingly, none of my cookbooks, which usually include game recipes, had wild boar recipes. While I could have simply adapted a ragu from one of my cookbooks, I decided to pop over to La Cucina Italiana and see what they had with wild boar. Two whole recipes were returned from my search results, and both were ragu!
Of course, as I read through the recipes, I notice both are for boneless cuts of meat. So I started with one's marinade, added the shanks, and adapted my recipe along the way to work with my cuts of meat. I thought the bone-in pieces of meat might be a bit daunting, but in the end I'm thinking it was easier. I didn't have to cube the meat, and after simmering for so long, the meat just fell away from the bone and shredded easily. The result was a thick, velvety sauce that coated the egg pappardelle, with heavenly bites of the most tender meat here and there.
Given that this is a classic Italian ragu, I felt that we had to pair it with one of the bottles of La Fiorita Brunello we have been keeping for the past couple of years. We settled on the 2003 Riserva, as there were a couple of those bottles left (and the single bottle of 2001 is just so phenomenal that it feels like it must be saved for a special occasion). The pairing was as classic as the ragu – the peppery, robust flavor of the wine matching perfectly with the flavors of the boar and tomatoes.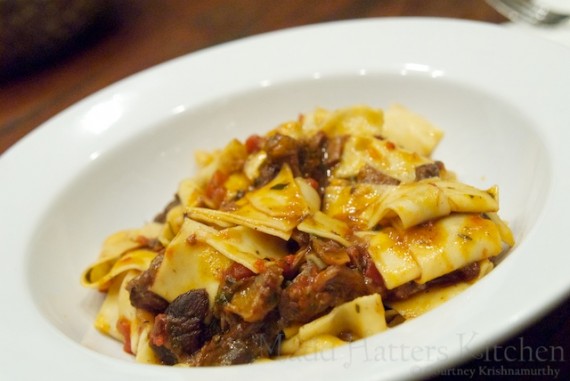 Wild Boar Ragu with Pappardelle
Serves 4
2 wild boar shanks, about 2 pounds
3 cups dry red wine
2 1/2 tablespoons red wine vinegar
3 rosemary sprigs
2 garlic cloves, gently smashed and peeled
Fine sea salt
1 14 ounce can San Marzano tomatoes, drained and tomatoes diced
2 1/2 ounces thick-cut slice pancetta, cut into 1/8-inch dice
1/4 cup extra-virgin olive oil + 1 tablespoon
1 medium onion, finely chopped
1/3 cup finely chopped flat-leaf parsley
Freshly ground black pepper
1 1/2 cups vegetable broth
1 tablespoon tomato paste, preferably double concentrated
12 ounces fresh or dried egg pappardelle
In a large bowl, combine boar, 2 cups wine, vinegar, rosemary and garlic; cover and marinate, in refrigerator, at least 8 hours or overnight.
Reserving marinade, drain boar. Heat 1 tablespoon of olive oil in a 5- to 7-quart heavy Dutch oven or pot with lid. Add boar, and brown all 4 sides over medium-high heat, about 3 minutes per side. Remove the pot from heat and add the marinade, being careful to not let the mixture of oil and alcohol boil over or burn you. Place the pot back on the heat, bring to a simmer and cook covered, until boar is warmed through, about 10 minutes. Remove boar shanks and keep warm; discard marinade and wipe out any excess liquid from the pot.
Using same pot, combine pancetta and oil; cook over medium-high heat, stirring occasionally, until oil begins to bubble, about 3 minutes, then stir in onion and parsley. Reduce heat to medium and continue to cook, stirring frequently, until onion is softened, about 5 minutes, adding 2 teaspoons salt and a few grinds of fresh peppercorn about halfway through this time. Add the boar and coat in onion mixture, cooking for 2 minutes more. Add remaining cup wine, broth, tomatoes and tomato paste, stirring to dissolve paste. Bring to a gentle simmer, then reduce heat to low and cook, covered, until meat is tender, about 2 hours and 15 minutes.
Bring a large pot of salted water to a boil for the pappardelle.
Uncover ragù and remove the boar shanks, letting the ragu mixture continue to simmer uncovered. Cut the meat of the boar away from the bone (it should easily fall off) and break up meat into bite-size pieces with a knife or your fingers (again, careful not to burn yourself). Add the boar back to the ragu and gently simmer, stirring occasionally. Cook for about 15 to 20 minutes more, letting the liquid reduce. Adjust seasoning if necessary.
Add pasta to the boiling water and cook until just before al dente, about 2 – 3 minutes. Reserve 1 cup of pasta water. Drain pasta and transfer add to the simmering ragu. Toss to combine, letting the pasta absorb the ragu liquid. Add a bit of the pasta water if necessary to make a smoother sauce that coats the noodles (I added about 1/3 cup). Serve immediately.