November 19, 2010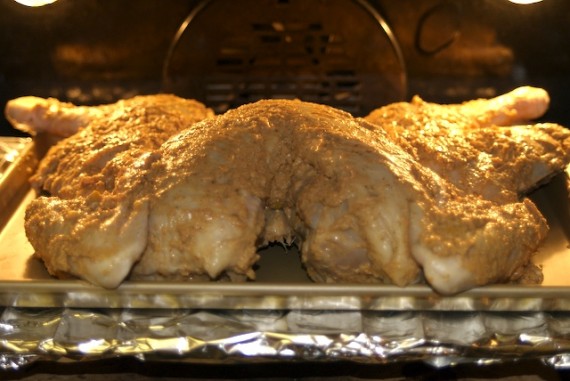 After many years of thinking about how to bring my husband's traditional foods and mine together for a meal like Thanksgiving, I finally decided to take the plunge and try out the recipes dancing through my head last year. The centerpiece was a tandoori turkey. While I didn't build a traditional tandoor oven like I had envisioned, this version turned out quite nicely. It had a mild spice and the spatchcocking of the turkey took the cook time down to about an hour and a half.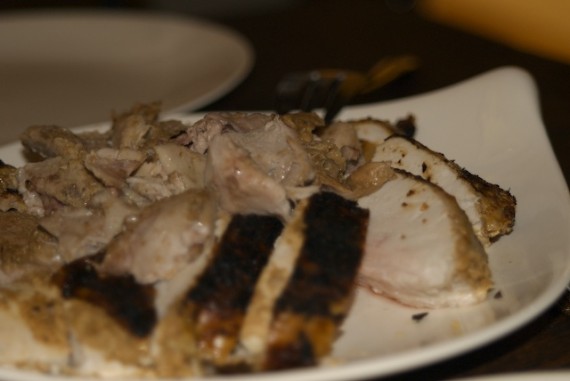 Tandoori Turkey
Serves 6 to 8
2 tsp coriander seeds
1 tsp cumin seeds
1 small onion, roughly chopped
3 garlic cloves, roughly chopped
2 in. piece of ginger, peeled and roughly chopped
3/4 cup thick yogurt
grated rind of 1 lemon
3 tbl lemon juice
2 tbl white vinegar
1 tsp paprika
2 tsp garam masala
1 tbl Indian chili powder (cut this back if you don't want it to be spicy, Indian chili pepper is similar to cayenne, maybe slightly less hot)
12 to 14 lb. turkey
Preheat the oven to 450 degrees.
Rinse the turkey and pat dry. Spatchcock the turkey by removing the back bone and breaking the breast bone (see instructions for how to spatchcock a turkey on MarthaStewart.com).
Toast then grind the coriander and cumin seeds.
In a food processor or blender, blend all marinade ingredients to a smooth paste.
Season the turkey with salt and pepper, then rub the marinade on the turkey and let marinate for 8 hours or overnight.
Roast, rotating sheet halfway through, until an instant-read thermometer inserted into the thickest part of the thigh reaches 165 degrees, about 1 hour and 10 minutes. Let stand for 20 minutes before carving.