September 6, 2010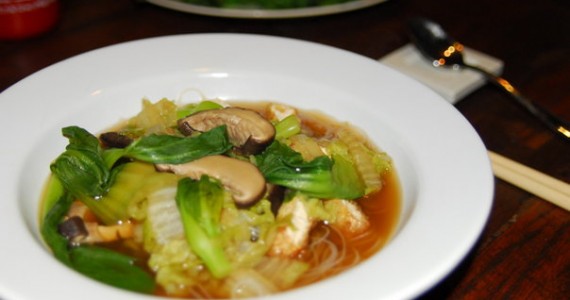 I know, I know. That's such a cheesy title for a blog post. I stumbled upon this recipe at the Kitchn and the picture looked so good, I had to make it. As I got into making this, I changed the proportions and the steps to make this, so below is my version of the recipe.
Vegetarian Pho
Adapted from Emily Ho's recipe on the Kitchn
Serves 2
Broth
1 large onion, peeled and halved
2-inch piece fresh ginger root, peeled and halved lengthwise
3-inch cinnamon stick
2 star anise
3 cloves
2 cloves of garlic, crushed
1 teaspoon coriander seeds
7 cups unsalted vegetable stock
1 1/2 tablespoon soy sauce (more or less to taste, adjust if you have salted vegetable stock)
4 carrots, peeled and coarsely chopped
Black pepper to taste
Noodles
10 oz rice vermicelli or other thin rice noodles
Toppings & Vegetables
1 block of extra firm tofu, pressed and sliced into 4 pieces length-wise
1/8 cup cornstarch
1 tablespoon vegetable oil
4 cups shredded napa cabbage
2 – 4 baby bok choy, slice in half
6 oz. shitake mushrooms
Garnishes
2 scallions, thinly sliced
5 to 6 Thai chile peppers, sliced
1 lime, cut into wedges
1/2 cup bean sprouts
Large handful of cilantro
Large handful of Thai basil (or regular basil if Thai basil isn't available)
Sriracha
Chili paste
Soy sauce
To make the broth
Char onion and ginger over an open flame (holding with tongs) or directly under a broiler until slightly blackened, about 5 minutes on each side. Rinse with water.
In a large pot, dry roast cinnamon, star anise, cloves, and coriander over medium-low heat, stirring to prevent burning. When spices are aromatic, add vegetable stock, soy sauce, carrots, garlic, black pepper, and charred onion and ginger.
Bring broth to a boil, reduce heat, and simmer, covered, for 30 minutes. Strain and keep hot until ready to add toppings to broth.
To make the noodles
While broth is simmering, bring a large pot of water to a boil. Add noodles; cook according to package instructions, about 2 min. Drain.
Making the toppings and adding the vegetables
While the broth is simmering, heat the oil in a large skillet. Coat the tofu with cornstarch, shaking off any excess. Fry the tofu in the oil until golden brown. Drain on paper towels, and then slice into strips.
Once the broth has simmered for 30 minutes, add mushrooms and simmer for 3 minutes more. Then add the napa cabbage and bok choy, and continue simmering for another 3 to 4 minutes, until all vegetables are tender.
Assemblage and serving
Divide noodles between two bowls. Add fried tofu strips across the noodles. Ladle vegetables and broth into the bowls, pouring over the noodles and tofu. Serve with the garnishes on a large platter in the middle of the table, allowing diners to add according to their own taste.
Gluten-free alternative: Replace soy sauce with gluten-free tamari.