September 10, 2013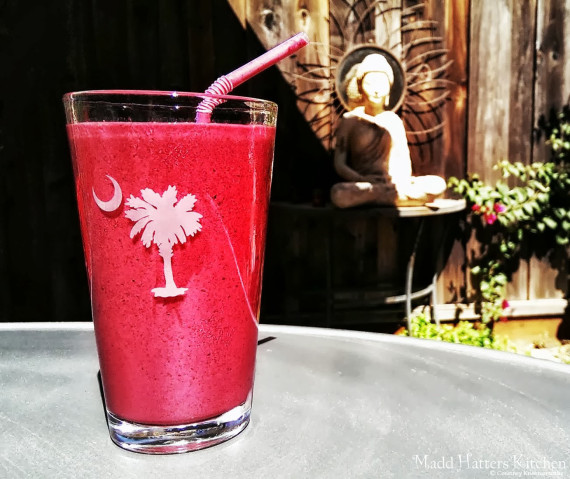 I've decided to dedicate the month of September to getting some of the yummy posts I've made on the daily nosh into recipe form over here in the kitchen. And I think I shall kick off with a smoothie that I've become addicted to!
I have to admit, I cannot take credit for coming up with the flavor profile for this smoothie. I stumbled upon it at a local juice bar, and I decided to give it a go at home. Mine comes out a bit more cherry, and every bit as cheery as the original, only now I can have it any time I want it. Well, so long as I keep those cheery cherries in my freezer.
Cherry chai smoothie
Makes about 12 ounces
Vegan alternative listed below
1 cup frozen cherries (not packed, just a loose measurement)
3/4 cup chai tea with rose water (see below)
1/2 cup frozen peaches
1/2 cup yogurt
A couple of generous pinches cinnamon
Place all ingredients in a blender and blend until smooth. Enjoy!
Chai tea with rose water
Makes about 5 cups
4 chai tea bags (I used Good Earth decaf chai)
6 cups water
1 inch piece ginger, cut into slices
1/2 tablespoon rose water, more or less to taste (my current rose water is very mild)
Boil water. Add tea bags and ginger. Steep tea bags for 5 minutes and remove. Let cool, strain out ginger pieces. Add rose water. Chill.
Note: You can freeze the extra chai for later use. I poured about 1/4 cup into each hole of a muffin tin to freeze. This morning I made a vegan version with lite coconut milk, and I didn't bother to defrost the tea. The smoothie turned out just perfect!
Vegan & dairy free alternatives: Replace the yogurt with either almond milk or coconut milk. I prefer coconut milk.