April 25, 2014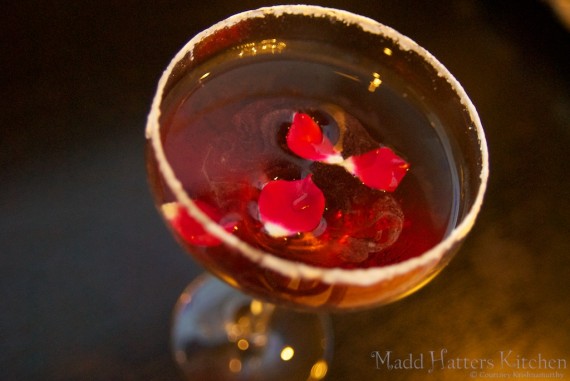 There's something fun and exotic about a cocktail with rose petals floating in it. Rose water was a bit of an acquired taste for me, but after I decided I liked it, it's opened up a whole new world of interesting drinks and tipples. Then there's the name of this cocktail. Inspired by Turkish delight, which I'm sure many of you, like me, will identify with The Lion, the Witch, and the Wardrobe, just makes this drink all the better. For those of you who aren't familiar with Turkish delight, beyond the book, it's a sweet candy which comes in many flavors, but one of the more popular is rose water, and it is dusted with powdered sugar. While this may not be exactly like biting into a piece of the candy, you'll definitely pick up the sweet hints and the subtle rose flavor that are the hallmarks of Turkish delight.
One caution – make sure you get rose petals that are not treated with any chemicals. For me, that means waiting until spring when my rosebushes bloom. I'm 100% certain what is going into the ground with them, so I feel comfortable picking a few petals, rinsing them, and tossing them in my drink. If you're making a bunch of these for friends, sit a couple of roses out in a vase of water on your bar to pull from as you mix them up.
Turkish Delight Martini
Makes 1
~ 1 tablespoon powdered sugar
1 lemon wedge
1 1/2 ounces vodka
1 ounce white creme de cacao
1/2 ounce sour cherry syrup (found in Middle Eastern markets, online
, or make your own)
~1/4 ounce rose water (see note)
3 to 5 rose petals
Note: I find rose water's strength varies wildly, so I would suggest you pour 1/4 ounce into your measure, but add a little at a time to your shaker before you add the ice. Give it a smell – you want to get a faint smell of roses but not be overwhelmed. You should still be able to smell the creme de cacao as well.
Pour the powdered sugar onto a plate. Rub the rim of a slightly chilled martini glass with the lemon wedge and roll the edge of the glass in the powdered sugar. Lightly tap the glass to let any excess sugar fall off.
In a shaker combine the vodka, creme de cacao, and cherry syrup. As noted above, add the rose water a little at a time. Add ice and shake. Strain into the prepared glass and garnish with the rose petals.