June 6, 2012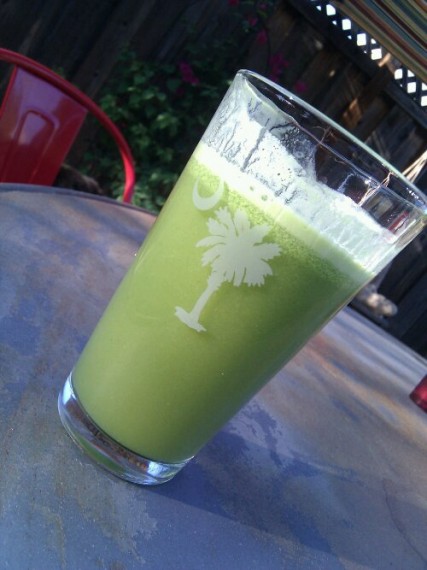 A couple of weekends ago, I had a friend mention offhand to me that she tried making my green juice, and it didn't turn out as she expected (that was her nice way of saying it wasn't so good). She had seen a Daily Nosh lunch posting and decided to put those exact same items through her juicer, but with less than stellar results.
After we had a good laugh, I decided maybe I should clarify my green juice recipe, which changes often based on what I have on hand, but giving a baseline recipe might be handy, and it might save someone from clearing out their sinuses if they don't realize exactly how potent ginger can be when juiced!
Courtney's Green Juice
Makes 1 glass – about 12 ounces
1/2 bunch kale
3 to 6 stems mint
1/4 to 1/2 bunch parsley
2 granny smith apples
1 lemon, rind removed
2 stalks celery
1/2 inch piece ginger
I have a Breville Juice Extractor, so I begin at low speed, juicing the kale, mint, parsley, lemon, and celery. I try to wrap the leaves into tight little bundles (probably about 3 bundles – mint and parsley wrapped into larger kale leaves), shooting them through the extractor while alternating with the celery and lemon going down the shoot to help clear the leaves out of the disc.
Then I switch to high speed, and in goes the ginger and the apples. Over the years I've grown used to the potency of ginger juice, so these days I may use anywhere from 1/2 inch to 1 1/2 inch pieces of ginger depending on what I have on hand (not only how much ginger I have, but how much of the other ingredients I have – as I said, the recipe often changes – sometimes my garden doesn't yield enough kale, sometimes I use spinach, sometimes I only have 1 apple but add more celery… you get the idea) and what I'm in the mood for. If you're not used to it, I would suggest starting with the smaller amount to get the flavor, and working your way up if you want more.
The result? A bright, green drink that leaves you breath really fresh (thank you mint and parsley!), your insides warmed up (thank you ginger!), and with an overall feeling of well-being (thank you green stuffs!).