September 18, 2011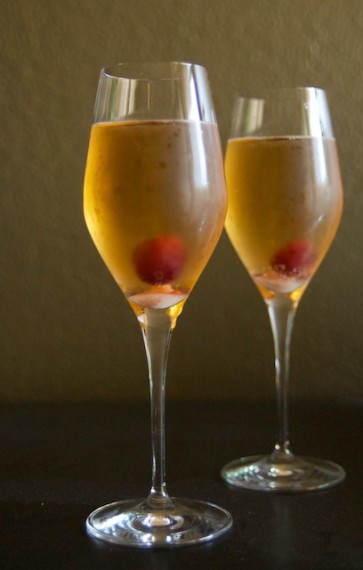 I stumbled upon this recipe one day when setting up a champagne cocktail bar. I knew I wanted to include one of my favorites, the French 75. I had some fresh raspberries, so I decided to do a simple Chambord and Champagne. To create a "bar", though, I felt I needed three drinks. So off to the internet I went.
A quick search returned the classic champagne cocktail. It was easy enough. Just a few ingredients, sugar cube, bitters, brandy (and of course, champagne). But how would it taste?
This cocktail didn't disappoint! It's become one of my go-to cocktails for the evening rotation. Perfect as a pre-dinner drink, easy to make, and the ingredients are usually on hand in my house.
Classic Champagne Cocktail
Sugar cube
2 dashes bitters
1 ounce brandy
Champagne
Brandied cherry (optional)
Place the sugar cube in the champagne flute. Saturate the cube with the 2 dashes of bitters. Add 1 ounce of brandy and top with champagne.
This alone makes the drink beautiful, with bubbles streaming up from the sugar cube. However, since I had the brandied cherries on hand, I decided they would be a beautiful addition to the drink, and I would have a little sweet fruitiness at the end.