August 30, 2013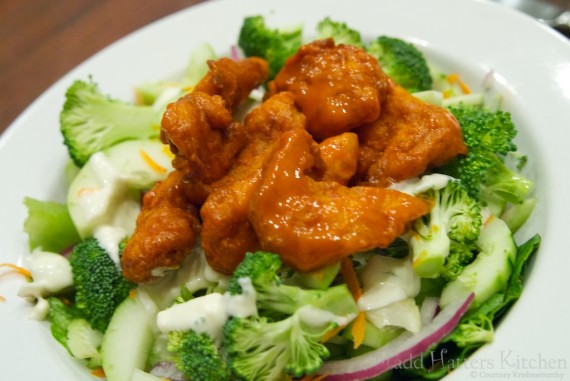 I've been on a bit of a hot wing kick lately. And while my favorite way to quelch that craving is grilled wings tossed in buffalo sauce, this is quickly becoming my second. A fat salad bowl full of romaine lettuce, buffalo chicken tenders, blue cheese dressing, and every veggie I think is wonderful dipped in blue cheese dressing. All in one bowl.
This mixture was born a few jobs back. Pretty much the only time I would frequent the salad bar at work was if there were buffalo chicken strips, then I would make my rounds and find a variety of vegetables that I liked, and top it all with blue cheese crumbles and ranch (since we rarely had blue cheese dressing on that bar, for some reason). However, I had never tried to make this at home until last week. I had picked up some Louisiana Hot Sauce wing sauce at the grocery store and did not use all of it on my grilled chicken wings. Lucky for me, I realized how easily this could all come together, especially when you already have broccoli chunked up for snacking on and the onion already peeled. I foresee many, many more of these salads happening during football season!
Buffalo Chicken Salad
Makes 4
1 large head romaine lettuce, washed, chopped, and thoroughly dried
2 carrots, peeled and shredded
2 stalks celery, thinly cut on the bias (about 1/4″)
1/4 large red onion, sliced into half moons
1 cucumber, seeded and sliced into half moons
2 heads broccoli, cut into florets
Blue cheese dressing (or ranch, if you prefer that with your wings)
Buffalo chicken tenders (recipe to follow)
Salt & pepper
To assemble the salad: Mix the romaine lettuce, carrots, celery, and onion together with a seasoning of salt and pepper. Top with cucumber and broccoli, and season again (cucumbers without salt = no good!). Drizzle the salad with the dressing (I use about 2 tablespoons), and top it all off with the star of the meal, breaded buffalo chicken tenders.
Buffalo chicken tenders
1.25 pounds boneless, skinless chicken breasts, cut into 1 inch pieces
1 teaspoon each: salt, black pepper, red pepper, white pepper, garlic powder, onion powder, mixed together
Flour (enough to coat the chicken)
Peanut Oil (enough for deep frying, can also use canola or other high smoke point oil)
Your favorite wing sauce (This can be found at grocery, or start with a mix of 1/2 cup melted butter and 1/2 cup hot sauce, adding more hot sauce to the ratio for a hotter sauce. Season with 1/4 teaspoon black pepper and 1/4 teaspoon garlic powder.)
Place the chicken strips in a bowl. Season the chicken strips liberally with the spice mixture, rubbing it in with your hands. Add the flour and toss or stir to coat. Place the chicken in the refrigerator for 30 minutes, or in the freezer for 10 – 15 minutes. This helps the flour coating stick to the chicken.
Meanwhile, heat the oil to 350 degrees.
Note: Be careful when heating oil on the stove! Never leave it unattended, and take care not to let it boil over when adding ingredients to the oil, lest you start a fire.
Take the chicken out of the refrigerator or freezer. Place the strips in the oil, working in batches if need be. Fry until golden and cooked on the inside, which usually takes 7 to 10 minutes. Remove chicken from oil and drain on a paper towel. Keep warm while finishing the entire batch.
When all the chicken has been cooked, turn off the stove, and let the oil cool for safe removal. Place the chicken in a large, clean bowl and top with a generous amount of the wing sauce. Cover the bowl with a double layer of aluminum foil and toss to coat. Immediately use on the salad or just eat.
Gluten free option: I recently tried Cup4Cup flour in this recipe, and I have to say, it worked out well. While I haven't found Cup4Cup to be a true replacement for flour, it works really well for frying foods, as it lends a nice crispness to the coating. So if you're gluten free, make sure the salad dressing you buy is GF, and try a flour replacement such as Cup4Cup.