February 24, 2011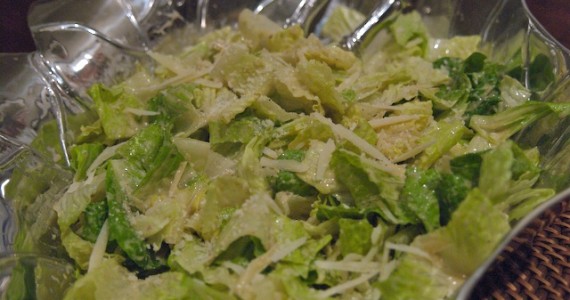 Caesar salad is the salad that turned me onto eating salads. The first time I visited La Pizzeria in Campbell (our local pizza joint), for some reason I thought, "What the heck! It's a sunny day. Let's eat some leaves with my pizza!". So I did, and I liked it. Loved it, even! Couldn't get enough. Something about the crispness of the leaves, the creamy yet minimal dressing, and the saltiness of the anchovies and parmesan really worked for me that day.
Fast forward a couple of years, and for some reason the restaurant decided to mess with my perfected salad. It tastes like they've taken the anchovies out of the dressing. At first I was sad, but then I took it as a challenge to recreate my favorite salad at home, which turned out to be very easy. When you add this to a homemade pizza, you'll feel like you're at the pizzeria!
Caesar Salad
Serves 6
2 large garlic cloves, 1 halved lengthwise
6 tablespoons extra-virgin olive oil
8 anchovy fillets packed in salt, rinsed and deboned
1 large egg
2 tablespoons fresh lemon juice
3 hearts of romaine (an 18-oz package), leaves separated but left whole
1 oz finely grated Parmigiano-Reggiano (1/2 cup)
Salt and pepper
Season salad bowl by rubbing a cut half of garlic onto bottom and side of bowl (reserve garlic).
Heat the 6 tablespoons of oil with all of the garlic in an 8-inch heavy skillet over medium heat, turning garlic occasionally, until golden, 1 to 2 minutes, then discard garlic. Let oil cool.
Put anchovies in salad bowl and mash to a paste using 2 forks. Whisk in egg and lemon juice, then add the oil (warm or at room temperature) in a slow stream, whisking until emulsified. Season with salt to taste.
Add romaine leaves and shredded parmesan to dressing and toss to coat.
Divide salad among 6 large plates, and serve with black pepper to taste. Serve immediately.