August 17, 2010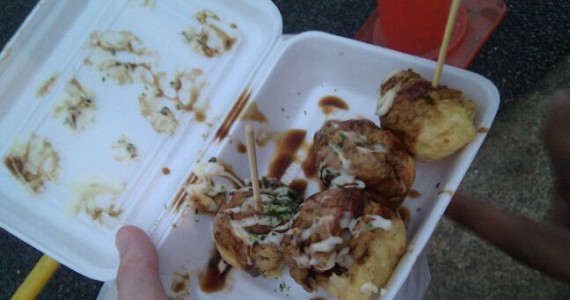 My husband and I just returned from a trip to Japan, and I'm still reeling from all of the amazing food we had a chance to eat. From fresh sushi to sukiyaki to kaiseki, we were able to try some familiar favorites as well as plenty of items we never had before. One of those "never had before" dishes was, for lack of a better term at the time, deep fried octopus balls. Imagine my surprise this morning when reading the Kitchn that I was finally able to find out what they were.
They're called takoyaki, a street food of octopus tentacle, spices, and dough, cooked in a specially-shaped pan. We happened upon a festival in Uji City, and as I spotted the huge pile of tentacles, I pointed and said "One please!". I think the vendor was a bit amused as he asked if I wanted toppings, and I responded with a "ummm, sure". After a long day of walking, a box of these and a cold Asahi definitely hit the spot.
I definitely see a batch of these being made in my future. Get the recipe from the Kitchen.