September 9, 2010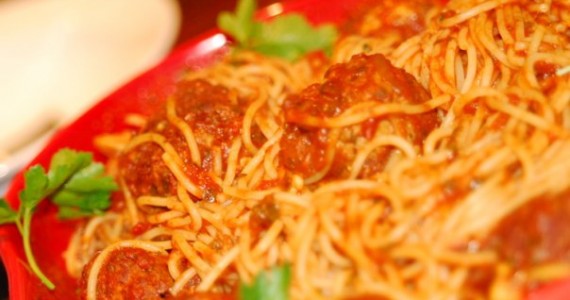 As the weather cools down, I'm starting to crave comfort foods. Chili, beef bourguignon, and especially spaghetti with meatballs. Queue up the Godfather, because this is a recipe I'll be making again soon.
One of my favorite places to find recipes is Williams-Sonoma, and once I saw Spaghetti with Stuffed Meatballs, I knew I had to make it. I thought about it for months, never getting around to it, then by the time I decided to take the plunge, I was afraid it was so played up in my mind that it would never live up to my expectations. I was wrong!
This is a really easy recipe to make. The one change I made was using fresh white bread instead of bread crumbs, which made the meatballs oh so light. I also used one of my favorite marinaras, to cut down on time. And the recipe… it totally live to up and even exceeded my expectations. The flavor of the meatball was wonderful, and the oozy cheese was exactly what I imagined.
With an overly full belly, I completely enjoyed that night's screening of the Godfather.
Spaghetti with Stuffed Meatballs
adapted from Williams-Sonoma
Serves 10-12
Ingredients:
1/3 cup milk
1 cup fresh white bread, pulled apart into small pieces
1 lb. ground pork
1 lb. ground veal
1 lb. ground beef
1/3 cup minced fresh flat-leaf parsley, plus more
for garnish
3 eggs, lightly beaten
3 garlic cloves, minced
1 3/4 tsp. kosher salt
1/2 tsp. freshly ground pepper
1/3 lb. fresh mozzarella cheese, cut into 1/2-inch cubes
Olive oil for frying
About 6 cups quality marinara
2 lb. spaghetti, cooked and drained
Grated Parmigiano-Reggiano cheese for serving
Directions:
In a large bowl, combine the milk and the bread, and let the milk absorb into the bread. Add the ground pork, veal, beef, the 1/3 cup parsley, the eggs, garlic, salt and pepper. Mix briefly with your hands. Form the mixture into 2-inch balls. Press a mozzarella cheese cube into the center of each ball, sealing it inside.
In a large skillet over medium-high heat, heat 1/2 inch of oil until almost smoking. Add the meatballs and cook until browned, about 1 minute per side. Transfer to a paper towel-lined tray.
Discard the oil in the pan. Pour the marinara into the pan and bring to a simmer over medium-high heat. Add the meatballs, reduce the heat to medium-low, cover and simmer until cooked through, about 30 minutes. Uncover and cook for 10 minutes more.
Put the pasta in a warmed large, shallow bowl. Top with the sauce and meatballs and garnish with parsley. Serve immediately and pass the Parmigiano-Reggiano cheese at the table.