November 17, 2010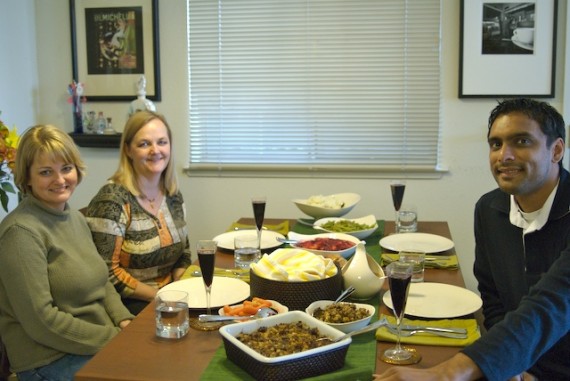 As I sit down to start planning Thanksgiving, I start to think about Thanksgivings past, and all of the yummy recipes I've discovered. Typically, I pick one recipe I really want to make (whether it's from the past, or something I've just seen) and then I begin to plan the menu around that.
This year, I'm going to pick a recipe I did in 2007 to center on – a riesling-brined turkey from Martha Stewart Living. It was one of the best turkeys I have ever had (deep-fried excluded here, of course). In 2007, I served this with the riesling gravy and porcini, sausage and chestnut stuffing in the same article. I rounded out the meal with ginger-glazed carrots, mashed potatoes topped with crispy parsnips, green beans, and orange cranberry sauce. This year I plan on changing up the sides, but they'll still be fabulous matches with the turkey.
Riesling Brined Turkey
from Martha Stewart Living, November 2007
Makes enough brine for one 18- to 20-pound turkey
7 quarts (28 cups) water
1 1/2 cups coarse salt
6 bay leaves
2 tablespoons whole coriander seeds
1 tablespoon dried juniper berries
2 tablespoons whole black peppercorns
1 tablespoon fennel seeds
1 teaspoon black or brown mustard seeds
1 fresh whole turkey (18 to 20 pounds), patted dry, neck, giblets, and liver removed and reserved for other use
1 bottle dry Riesling
2 medium onions, thinly sliced
6 garlic cloves, crushed
1 bunch fresh thyme
Bring 1 quart water, the salt, bay leaves, and spices to a simmer, stirring until salt has dissolved. Let cool for 5 minutes.
Line a 5-gallon container with a large brining or oven-roasting bag. Place turkey in bag. Add salt mixture, remaining 6 quarts (24 cups) water, and the other ingredients. Tie bag; if turkey is not submerged, weight it with a plate. Refrigerate for 24 hours, flipping turkey once.