May 9, 2013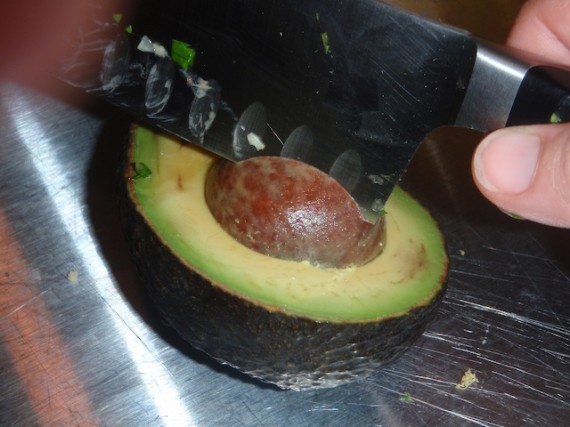 I'm here with a quick and easy tip that I know most of you may already know, but for those who don't, this could change the way you prep your avocados – in my mind, for the better!
To remove the pit, first cut the avocado in half around the pit, twisting so you have two halves. One will be pit free, but the other you'll need to remove the pit. Using your chef's knife, carefully holding the avocado in one hand, quickly drive the base of the chef's knife into the pit, as shown above. Make sure your hand/fingers are behind the avocado, so you don't drive the knife into any extremities! Then, still holding the avocado, twist it one way, the knife the other. The pit should pop right out.
To remove the pit from the knife, simply slide your thumb and index fingers around the top of the blade and place on the top of the pit. Push the pit off and into the garbage can. Slice and scoop the avocado out of it's shell as you normally would.